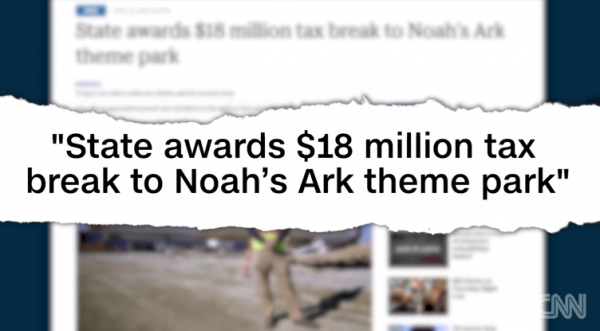 CNN's Carol Costello paid a visit to Ken Ham's Ark Encounter while she called the park a "mind-blowing site," she was not too pleased to learn that the park was benefiting from a massive influx of tax dollars and state bonds.
"Yes, tax incentives and free land provided by the state of Kentucky and Grant County to operate Ham's 'evangelical tool,' all in exchange for the hope that the Ark will attract millions of tourism dollars and jobs to the state," she writes in her piece.
This, following a quote from Ham in which he openly admits that the park is a ministry.
"It's definitely an evangelical tool," Ham told her. "We didn't build this just to be entertainment like Disney. We built it for religious purposes."
This, of course, should have disqualified the park from the $18 million tax rebate it will be receiving in the next year.
Costello did a great job of speaking to other Christians who agree that the park should never have been granted tax money to preach to the masses.
"These tax incentives are intended to be neutral and not to support one view or another," Fox, a Baptist pastor told her. "It's clear that the Ark Park is not a neutral event."
The piece on CNN is pretty short, but it's accurate and holds Ham's feet to the fire for the blatant constitutional violation the park and it's tax income is.
Costello closed her piece furiously damning the "statement of faith" that employees would be required to sign in order to get a job.
Ham argued his park had every right like every other business to take advantage of the tax rebate, citing a bourbon museum, but Costello wasn't buying it.
"That may be true, but I'm certain the Kentucky Bourbon Museum does not exclude employment to those who refuse to sign a 'Statement of Faith'," she writes. "Employees must also believe in a literal interpretation of Genesis and Jesus Christ. So, no Jewish or Muslim employees. I would be ineligible, too. Catholics embrace evolutionary science."
The park is scheduled to open on July 7, 2016, and I will be in attendance as part of the Tri-State Freethinkers protest. To make my trip possible you can donate to my GoFundMe and I will continue to be a pain in the ass for Ken Ham and make my voice heard in counter to the religious nonsense Ham will be espousing as scientific facts.