Branden McClain, one of five local artists commissioned to take part in the creation of a large mural at the Forecastle Festival in Kentucky, used the opportunity to send a message. The message: the Ark Encounter is a waste of money.
"These are a physical representation of our thoughts on the Noah's Ark Bible story," McClain, the founder of Building Blocks, an art and community outreach organization in Louisville, told the Courier-Journal. "It's our thoughts on the money spent by the state to build the ark park."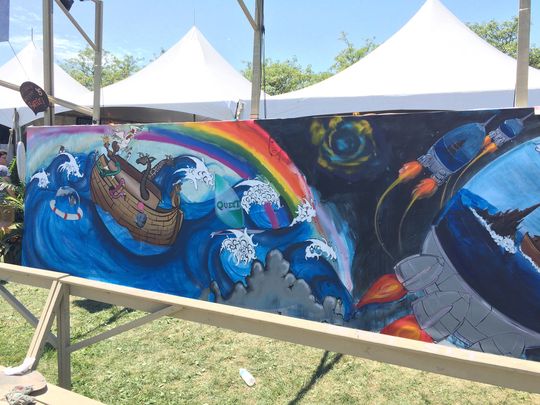 The mural, seen here as snapped by the Courier-Journal's Bobby Shipman, shows rainbows, spaceships, and Noah's Ark.
This is yet more reaction from the local Kentucky community that says loud and clear they do not want the Ark Encounter to come at a price of taxpayer dollars — money that could be better spent elsewhere in the state.