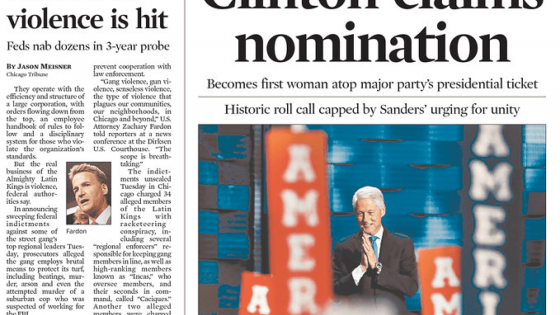 Regardless of how you feel about her, Hillary Clinton made history on Tuesday when she was nominated to be the first woman presidential candidate of one of the countries two major parties.
This is headline news, and it was, and a few of the mainstream papers decided to feature a photo of former president Bill Clinton the cover under the headline, Clinton Claims Nomination.
Wednesday's front page with coverage of Hillary Clinton's historic night at #DemConvention pic.twitter.com/PhAySTk5JU

— Chicago Tribune (@chicagotribune) July 27, 2016
Woman: Makes history as a presidential nominee
Newspaper: Puts her husband on the front page pic.twitter.com/dpsna6y9bd

— Erin Ruberry (@erinruberry) July 27, 2016
At some point overnight @WSJ decided "Hillary Clinton Wins Nomination" headline needed a picture of Hillary. #picks pic.twitter.com/uBiZiIIQte

— Pat Kiernan (@patkiernan) July 27, 2016
Now look, many complain that the term sexism is overused to the point of being meaningless, and I disagree with that. However, when it comes to sexism in everyday American culture, this is a perfect example of what that looks like. There is simply no denying that calling this sexist is spot on.
Hillary Clinton made history and Bill is plastered on the front cover.
Michelle Obama wasn't plastered on covers when Barack was nominated in 2008 or 2012. Hillary wasn't the cover for Bill's nominations.
The media needs to pay attention to these things. They matter, and they send a message.
They message they chose to send isn't a good one.
Epic fail.