American Atheist president David Silverman was reaching out to presidential candidates today asking if they would ask for the atheist vote.
This comes days after the DNC were exposed for discussing using atheism as a weapon against Sanders in order to secure Clinton two key primary victories.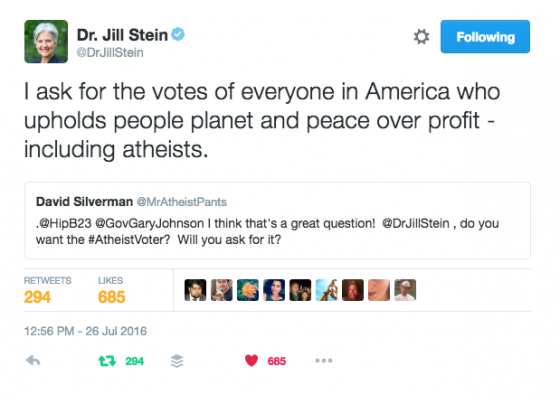 While she didn't come out and directly ask atheists to vote for her, she said more than any other candidate has to date.
Silverman asked Libertarian candidate Gary Johnson the same question but got no response. Johnson likely wouldn't as he is a theocratic-leaning candidate who openly supports funding religious schools with taxpayer money.
While this statement is unlikely to switch voters, as voters tend to care more than about simply being pandered to, it is nice to see a candidate actually acknowledging us.
Update: Johnson did respond by telling Silverman that the right's of atheists would be protected under his presidency. Thanks, I guess…