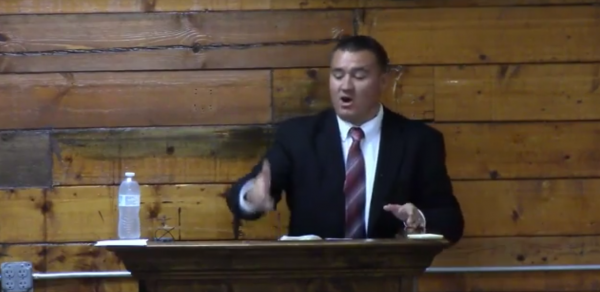 The Freedom From Religion Foundation, acting on information provided by myself and John Gleason of the Godless Engineer podcast, sent a letter to the IRS filing a complaint against Pastor Donnie Romero of Stedfast Baptist Church in Fort Worth, Texas.
In a strange sermon, Romera denounced both candidates for president saying, "There is no biblical grounds that a Christian should ever for Donald Trump or Hillary Clinton … Show me one reason why these people should be elected? They're wicked, ungodly, and evil demonic people."
As a church, they are prohibited from endorsing or opposing any candidates. While it is strange to see someone oppose both from the pulpit, it is a clear church and state violation issue.
FFRF wrote about the continued problem of churches politicking and said it expands well beyond the church floor.
Public endorsements or opposition aren't just made during sermons, they're also made in official church bulletins, or on church marquees. FFRF has received reports of churches handing out sample ballots with candidates marked. In 2012, we received a number of reports of marquees used for politicking. First Conservative Baptist Church in Jacksonville, Florida, posted "Pray for our President to be replaced." Church of the Valley in Leakey, Texas, put "Vote for the Mormon, not the Muslim" on its marquee and a church in Chico, California, referencing the "birther" movement, posted "Vote for the American."
It will remain to be seen if the IRS takes any action against this and other churches that are blatantly violating the law.