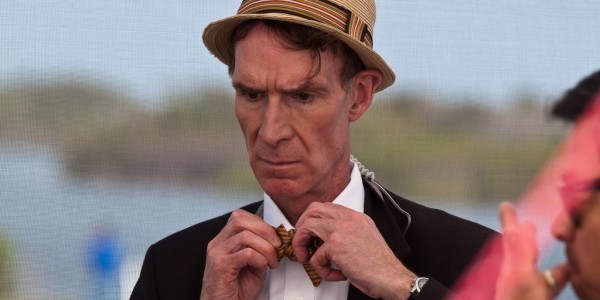 Bill Nye is coming back to a television near you, or really, any device that plays Netflix.
Netflix announced Wednesday that they have inked a deal with the famed science communicator for a talk show that will focus on different scientific topics each week.
The show, which will be called Bill Nye Saves the World, will launch in 2017 and will be his first television show since Bill Nye the Science Guy.
"Since the start of the 'Science Guy' show, I've been on a mission to change the world by getting people everywhere excited about the fundamental ideas in science," said Nye. "Today, I'm excited to be working with Netflix on a new show, where we'll discuss the complex scientific issues facing us today, with episodes on vaccinations, genetically modified foods and climate change. With the right science and good writing, we'll do our best to enlighten and entertain our audience. And, perhaps we'll change the world a little."
Like Cosmos, I am all but certain that Bill Nye Saves the World will be a thorn in the side of creationist Ken Ham who will be angered that each week the answer to every scientific question isn't found in the bible.
I for one hope this helps spread more scientific literacy to an older audience, helping debunk the anti-vaccine, anti-GMO, and climate denial movements.