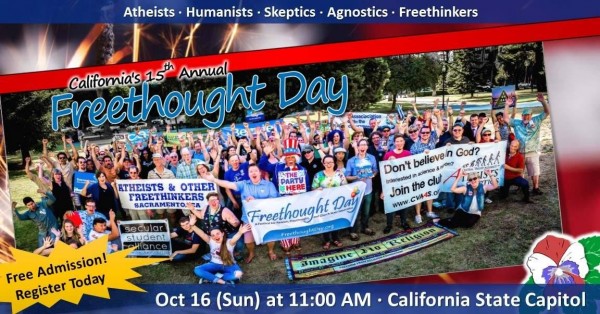 California's Freethought Day is on October 16, in Sacramento, California.
I have spent the last several weeks introducing you to some of the amazing speakers and performers who will be at this year's event. Today, I am introducing the amazing author's panel.
This year's panel features four authors who will discuss a range of topics led by audience questions.
Elbe Spurling, author of The Brick Bible
Elbe is an atheist and renowned Bible illustrator. She is the creator of The Brick Bible, where for a dozen years she has been working to illustrate the entire Bible using only LEGO® bricks. Her illustrations have been featured in Time, People, Rolling Stone, SPIN, and Entertainment Weekly, and on CBS News Sunday Morning, and The Daily Show with Jon Stewart.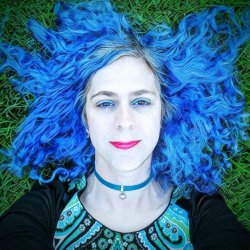 Elbe's approach to illustrating the Bible has won her fans from across the spectrum of belief from atheists and freethinkers to creationists and clergy. Her presentation is notable not just for its artistry and meticulous attention to detail, but for its uniquely straightforward and frank approach to the Bible's content, paying as much attention to the 90% of the Bible not covered in church as to the 10% that is.
Elbe's work is beautifully showcased in a new two-book box set, The Brick Bible: The Complete Set. Spurling has also created a five-book series of Bible picture book stories for kids, and has most recently illustrated the Brick Book of Mormon.
David McAfee, author of The Book of the Gods
David McAfee is a Religious Studies graduate, journalist, and five-time published author. His books include Disproving Christianity and other Secular Writings, Mom, Dad, I'm an Atheist: The Guide to Coming Out as a Non-believer, The Belief Book, and, most recently,The Book of Gods. In The Book of Gods, McAfee and illustrator Chuck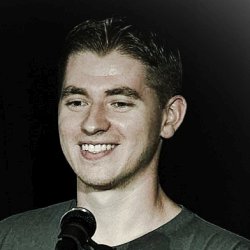 Harrison teach kids and kids at heart about deities from all over the world. The book is interactive and allows children to color and even create their own gods.
He is also an editor and public relations manager for Ockham Publishing and a contributor to
American Atheist Magazine
.
David attended University of California, Santa Barbara, and graduated with bachelor's degrees in English and Religious Studies with an emphasis on Christianity and Mediterranean traditions.
Dan Arel, Author and Journalist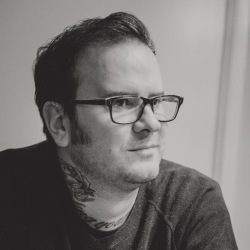 Dan is the creator of the Danthropology blog and an award-winning journalist and best-selling author of Parenting Without God; and The Secular Activist. He has also written for CounterPunch, Common Dreams, Time Magazine, On Faith, Salon and many others. He maintains a full-time blog on the Patheos network called Danthropology and writes a column of the same name for American Atheist magazine. He is a Special Correspondent for American Atheists and has previously worked as a writer and editor at the Richard Dawkins Foundation for Reason and Science.
His articles and various quotes have been featured on NBC News, Washington Post, People Magazine, Christian Post, Christian Today, Religious News Service, Sojourners, Pasadena Weekly, Kentucky Kernel and others.
Bill Zuersher, author of Seeing through Christianity
Bill Zuersher is an activist for the separation of church and state.  He studied economics and government at Yale and then worked for two decades in the energy industry before dedicating himself to teaching and writing.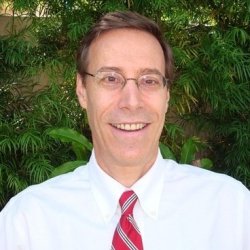 His interest in religion derives from a concern about the role of faith-based beliefs in American politics. Rather than engage in public policy debate about multiple disparate issues, he decided to focus on the root cause of all of them, namely religion – and Christianity in particular.
He has summarized his own religious views in his debates: "I do not believe in the existence of any gods or goddesses. It is certainly possible that one or more such beings exist, but if so, they do not appear to expend much effort superintending the affairs of this world." He and his wife, Linda, live in southern California.
Be sure to register today for California's 15th Freethought Day! It's free!