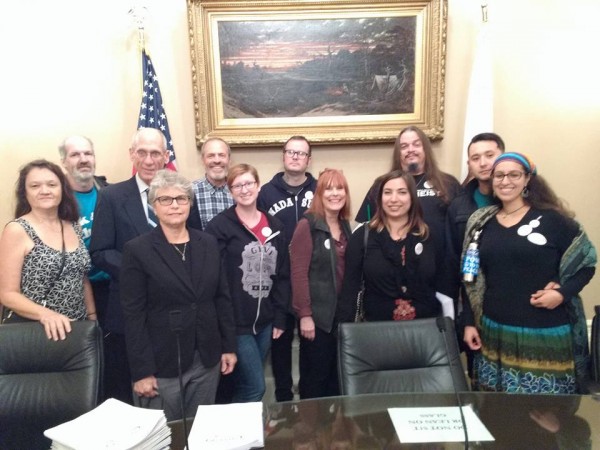 This past weekend, Aron Ra, author of Foundational Falsehoods of Creationism,  and I joined a small team of activists at the California State Capital for the Secular Coalition of California's Secular Advocacy Day.
Aron and I went from office to office meeting with state senators and assemblymen and women to share with them the Secular Coalition scorecard for how each elected official had voted for key church and state separation issues that the Secular Coalition had been tracking.
Our mission was not to ask for their vote for or against a specific bill but to remind them that nontheists, atheists, and the like make up at least 25 percent of the voting block, and that of millennials that number is closer to 39 percent.
Given that this is California, we were able to visit with a good number of officials (or at least their leading staff) who scored an 11 out of 11 and thank them for standing up for secular values and make sure they know we are available as a resource for future legislation.
A handful of times, however, we visited offices of many Republican officials who scored as low as negative three. Those conversations were the interesting ones. Aron even had to debate with one legislative director about why the separation of church and state is even necessary.
The experience was amazing. This was us putting activism into action. Not sitting around complaining that our elected officials don't care about the freedom FROM religion, they only care about upholding Christian privilege, and we went to their offices and made sure they saw us. They had to look us in the eyes as we told them our voices matter.
I encourage everyone to find a local Secular Coalition chapter, find their advocacy day and show up. You don't have to support the politicians you are speaking to, or even support the political system that got them there. You do, however, have to live under that government and so do others, so you can try to hold them accountable and demand they listen.
I certainly have no plans on becoming a lobbyist, but I am glad I took a few hours out of my day and made my voice heard.
If you're interested in being more involved in secular activism, you can read my new book, The Secular Activist, and learn how I and others got involved and just what kind of change just one person can make.