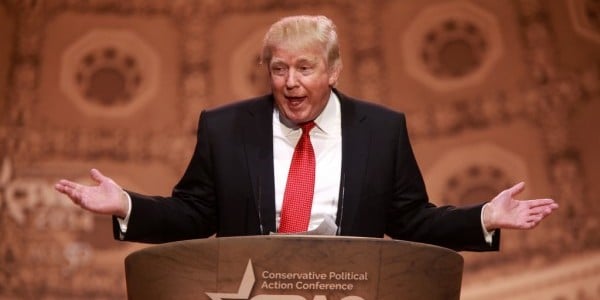 In what still seems like a bad nightmare, Donald Trump was elected Tuesday night as the 45th President of the United States. With secular and atheist organizations fighting the entire election to protect the First Amendment and freedom of religion, the victory is anything but hopeful.
Wednesday morning, these groups issued their responses.
The Secular Coalition for America called on Trump to abandon the religious right.

"On January 20, Donald J. Trump will swear to preserve, protect, and defend the Constitution of the United States," said Larry T. Decker, Executive Director of the Secular Coalition for America. "This includes the First Amendment, which for 225 years has safeguarded our freedom of, and from, religion. Candidate Trump built a campaign based on the religious right's agenda, the core of which seeks to use government to impose their religious beliefs on all Americans. This theocratic worldview is fundamentally incompatible with the oath of office he will take in just a few weeks. We congratulate President-elect Trump on his victory, however we urge him to honor the oath by serving all Americans of every faith and none. We are prepared to work with Mr. Trump and his Administration in this endeavor."

He continued:

"The 2016 election will be remembered for exposing the religious right's agenda as hollow and divisive," said Decker. "Their unwavering support for a candidate who is the antithesis of everything they claim to stand for reveals that their sole priority is seeing their own religious beliefs made law. The United States is changing rapidly, becoming increasingly secular and pluralistic. We are prepared to fight in 2017 for policies that reflect this new American landscape and uphold the secular character of our government as it was established by our founders."
David Silverman, President of American atheists made a call to action.
"Throughout this campaign, Mr. Trump has made a number of statements that have given millions of Americans who value the constitutional separation of religion and government a great deal of concern. From promising to end the prohibition on churches engaging in political activity to pledging to appoint Supreme Court justices who would allow religious liberty to be used as a weapon, Mr. Trump's rhetoric on these issues is at odds with the majority of Americans.

"It is my sincere hope that Mr. Trump will recognize the obligation he has to protect the constitutional separation of religion from government that our founders envisioned and act according to the will of the people he now represents. Likewise, I call on all members of the U.S. Senate and House to reject the use of religion to divide us as a nation or as a way to decide public policy.

"Beyond that, the atheist community must redouble our efforts to protect true religious freedom and the civil rights of all Americans. We reject the false version of 'religious liberty' peddled by those who seek to use their religion as an excuse to ignore the law and discriminate against members of the LGBTQ community, women, and religious minorities.

"With the election over, the time has come to set aside divisive religious rhetoric and policies and work to make our country truly 'one nation, indivisible.' That work begins again today."
Roy Speckhardt from the American Humanist Association called today a sad day for humanism.
"Our emphasis on reason-based policy, scientific inquiry, compassion for others, and equality for all lost today because a man who has made no secret of his opposition to nearly everything we stand for was just elected President of the United States.

"Worse than just thwarting the pace of progress, the next president is a true 'regressive.' This regressive said, 'I am pro-life, and I will appoint pro-life justices on the court.' This regressive said, in response to blasphemy laws, 'No leader, especially a religious leader, should have the right to question another man's religion or faith.'"
He said the results are terrifying for the progress America made.
"I'm terrified that so many voted to reverse the progress our community made under the Obama administration. From gaining marriage equality for LGBTQ Americans to preserving a woman's right to choose, I had strong reason to believe that America was on the right path toward a better country for all, including humanists, atheists, and agnostics."
The Richard Dawkins Foundation sent out an email reminding their supporters that secular rights are human rights.
Americans United for the Separation of Church and State highlighted the promises made by Trump and encouraged secularists to organize now.
Trump "pledged to repeal the law that prevents tax-exempt houses of worship from becoming political action committees that endorse and oppose candidates," wrote Executive Director Barry Lynn. "He promised to sign a law that will allow people to use religion as a basis for discrimination."

He added:

"There's no reason to think he won't try to implement his laundry list of dangerous proposals. And he'll have plenty of support in Congress."
We have a lot of work ahead of us, and how we organize over the next two months will determine how effective we are against a now supercharged theocratic government.