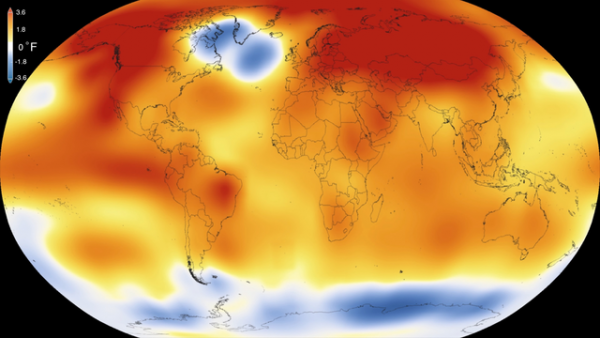 You know climate change is a serious threat when even anti-science evangelicals are pleading with other Christians to accept it as a fact.
Well, that is exactly what Paul Douglas, a well-known meteorologist in Minnesota, who also happens to be a devout evangelical Christian, is doing. The openly conservative Christian recently spoke at an event called "Creation Care" in which he argued that Christians have an obligation to care for God's creation. He also appealed to their conservative thinking in a new book he co-authored called "Caring for Creation: An Evangelical's Guide to Climate Change and a Healthy Environment."
"Being open to data, facts and science doesn't make you a liberal," he writes in the book. "It makes you literate. Scientifically literate. It means you favor data, facts and evidence over conspiracy theories, manufactured misinformation, and cherry-picked industry spins."
The book, which is also co-authored by Rev. Mitch Hescox, president of the Evangelical Environmental Network is aimed at bridging the gap between religion and science.
"I figured if people didn't want to hear from scientists, maybe they'd listen to a minister and a meteorologist," said Douglas in an interview with the Star Tribune.
There is a hint of irony in two authors who are part of an anti-evolution religion urging believers to accept scientific evidence, however, they frame their beliefs in the context of being "pro-life."
They two claim the book pushes pro-life values by protecting children from illness as well as caring for all life on Earth.
"The goal was to frame this in a way that resonates with people's spiritual lives," said Douglas. "To tell people they can have faith in God and follow the Ten Commandments, but that God also gave us tools to improve our lives, our society."
The book goes on to offer solutions to readers such as renewable energy such as solar and wind power, two sources of energy conservatives often regulate against in favor of coal. Douglas again appeals to the conservatives reading his book by suggesting that moving away from coal and into renewable energy could lead to "cheaper, clean, homegrown American energy," or as he calls it, "energy freedom."
While the book is being praised by some evangelical leaders, the authors have no plans to do any major media pushes, meaning many people may not hear about the book and it won't have a great effect on its target audience.
Douglas also misses the immediate importance of solving climate change by telling the Star Tribune that he doesn't believe he will change minds overnight but instead hopes it offers a new conversation on the topic, saying that solving climate change is a "marathon, not a sprint," despite prominent scientists around the world saying the damage is already being done and we are running out of time.