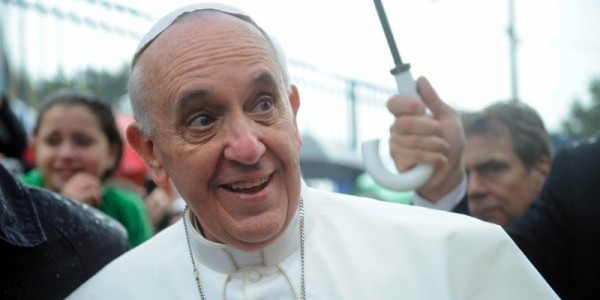 Pope Francis said Tuesday morning that people should never expect to see female priests in the Catholic Church.
So much for that super cool and liberal pope everyone loves, right?
In an interview, the pope was asked about the topic to which he replied, "On the ordination of women in the Catholic church, the last word is clear."
Francis was referencing John Paul's 1994 apostolic letter banning the practice.
"It was given by St. John Paul II and this remains," Pope Francis added.
The journalist pressed, asking if the pope was certain that there would never be a female priest.
"If we read carefully the declaration made by St. John Paul II, it goes in this direction," the pope replied.
This has, of course, been the position of the church for as long as anyone can remember, but when Pope Francis is championed by liberals as being progressive they have to ignore statements such as this, or his
statements about transgender men and women
, or his continued mistreatment of the LGBTQ community and women.
The truth is, Pope Francis is still a horrible person that is maintaining the status quo of the church. He is protecting pedophiles, hoarding money, and doing little to nothing to actually help people. He claims to be some form of anti-capitalist while wearing gold and sitting in a palace.
Francis is, in reality, more of the same. He is a hateful bigot.