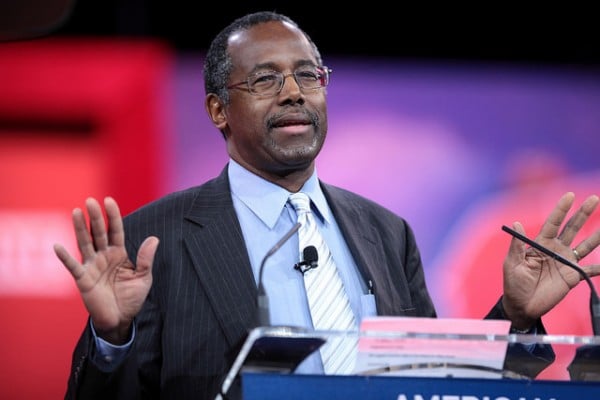 After telling the press just two weeks ago he did not feel qualified to serve in Donald Trump's administration, Ben Carson has accepted the nomination to be the Department of Housing and Urban Development (HUD) secretary.
The nomination was seen as alarming to many as Carson has no qualifications to hold such a position.
"I am astounded at the suggestion that Ben Carson would be nominated to serve as HUD secretary," Kristen Clarke, president and executive director of the Lawyers' Committee for Civil Rights Under Law, told CityLab. "HUD is among the most important federal agencies tasked with ensuring compliance with the Fair Housing Act, and creating affordable and inclusive communities."
More alarming is Caron's own words on the job. On Facebook, the former surgeon wrote that he viewed his responsibilities as "ensuring that both our physical infrastructure and our spiritual infrastructure is solid."
He did not go on to explain what he meant by "spiritual infrastructure." While it's entirely possible this is simply empty Carson rhetoric, one should also be aware of the previous uses of HUD to push religious agendas.
In 2003, President George W. Bush used HUD to allow taxpayer money to go directly to houses of worship. HUD also allows religiously affiliated organizations to accept federal contracts and grants and discriminate in hiring on the basis of religion with those federal dollars.
If confirmed, Carson would be charged with upholding the laws and regulations ensuring equal access to housing programs regardless of characteristics such as race, religion, sex, familial status, sexual orientation and gender identity.
However, Caron's ability to do just that comes into question when in 2015, he wrote in a Washington Times column that HUD was nothing more than "government-engineered attempts to legislate racial equality."
"There are reasonable ways to use housing policy to enhance the opportunities available to lower-income citizens, but based on the history of failed socialist experiments in this country, entrusting the government to get it right can prove downright dangerous," Carson continued.
In a later interview, Carson went as far as to call HUD "communist."
"This is what you see in communist countries where they have so many regulations encircling every aspect of your life that if you don't agree with them, all they have to do is pull the noose. And this is what we've got now. Every month, dozens of regulations—business, industry, academia, every aspect of our lives—so that they can control you."
With his history of hostility towards the LGBTQ community, religious minorities, and the working class, it remains to be seen how Carson would view his responsibilities in ensuring these groups, and others, have equal access to housing.