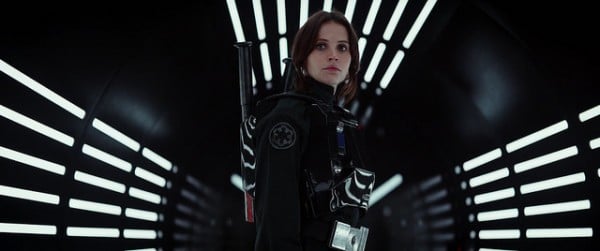 Is there anything that doesn't upset fragile white men these days?
It seems these days, even Star Wars is just too controversial for these delicate little flowers.
On a Reddit channel called "alt-right" which is just code for Nazi or white nationalist, users called for a boycott of the upcoming Star Wars film, Rogue One, and said the movie was a Jewish ploy to promote diversity.
"(((Star Wars))) Is Anti-White Social Engineering," a Reddit user named GenFrancoPepe posted in in the Reddit forum.
Forward.com points out that the "triple parenthesis, known as an 'echo,' is a way anti-Semites online call attention to Jewish names or perceived Jewish influence."
Their evidence for this? Well, the film has a strong female lead and a diverse cast.
Yeah, you read that right.
One neo-Nazi site called the film "anti-white hate."
"Nearly all of the major characters are non-Whites and the main character is an empowered White female," the post reads. "This film should be boycotted."
These fragile little men are so afraid of diversity that movies that cast women and people of color are "white hate" and must be boycotted.
I for one welcome the boycott. I will enjoy the multiple trips to the theater with my son knowing the person next to me isn't going to stand up and start throwing Nazi salutes to Darth Vader when he enters a scene.