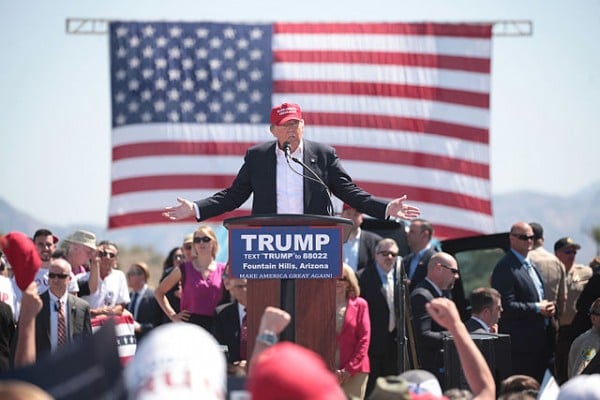 Update: An election lawyer on Twitter (so be mindful) has said the filing will not affect how nonprofits can deal with Trump. I will continue to view other voices and update as more information comes to light. So read the following with this update in mind.
In what may seem as a non-issue at first glance, Donald Trump filed his FEC paperwork for the 2020 election only five hours after his swearing-in ceremony.
For context, President Obama filed for the 2012 election in April of 2011. So Trump's actions are far from normal.
IMPORTANT. Donald Trump filed with @FEC for 2020 reelection on January 20th, 2017. This is major for several reasons. /1 pic.twitter.com/t8y5MJZHyC

— The Resisterhood (@resisterhood) January 28, 2017
Why does this matter? Well, according to a fantastic thread by Twitter user The Resisterhood, it has a lot to do with how PACs and Nonprofits are allowed to deal with candidate Trump, instead of President Trump.
A nonprofit, 501c(3) such as Planned Parenthood may now be required to use guarded language because they are not legally allowed to campaign against a presidential candidate.
They can criticize President Trump, but if it appears they are in any way trying to stop his 2020 election chances, the campaign can sue them.
This is IRS regulation re. 501c3s. They're smart, creative & used to this, but adds add'l hurdles/potential legal battles they don't need. pic.twitter.com/M9KITfVYWo

— The Resisterhood (@resisterhood) January 29, 2017
By doing so, they could easily lose their nonprofit status. Which is likely the goal of this whole thing.
For Planned Parenthood, this changes much about their tactics for the next four years of holding Trump and his administration accountable.
This is what the resistance is up against. These are the kind of tactics we will be up against.
Using the law to silence dissent. Forcing organizations to conform or be eradicated.
We have some work ahead and thankfully organizations such as Planned Parenthood are smart and know how to navigate these waters.