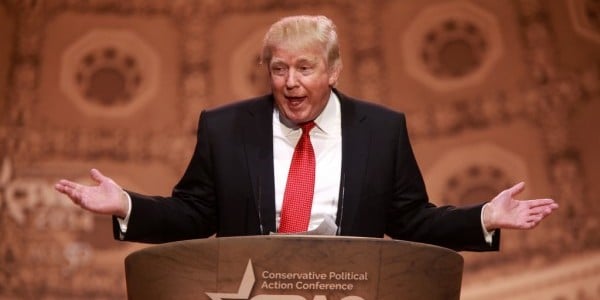 Only four days into his presidency and Trump has issued yet another Executive Order.
This time he takes aim at abortion rights.
The order reinstates a ban on U.S. funds going to health organizations overseas that provide, promote, or even discuss abortion.
What this means is an international organization that assists people will lose all funding if they even speak about abortion to women. When abortion is often a life-saving measure for many women, this order is a death sentence to many.
The Huffington Post wrote about the order saying:
The Mexico City policy, also known as the global gag rule, was first put in place by President Ronald Reagan in 1984. It prohibits giving U.S. funding to nongovernmental organizations that offer or advise on a wide range of family planning and reproductive health options if they include abortion ― even if U.S. dollars are not specifically used for abortion-related services.
In a statement Monday morning, Larry Decker, the executive director of the Secular Coalition for America said:
By reinstating the global gag rule, President Trump has turned his anti-choice rhetoric into a reality. Receiving federal funds to perform international aid work should not require passing an ideological litmus test. By cutting off access to the full range of reproductive health options, this cruel and unnecessary policy will only endanger women and jeopardize public health. President Trump has no right to decide what medical information women, in the United States or abroad, have a right to know. The revival of this policy comes the day after the 44th anniversary of the Supreme Court's Roe v. Wade decision and just two days after millions of people, including Secular Coalition for America staff and supporters, participated in the international Women's March. By reinstituting this policy, President Trump has shown a callous indifference to American law and public opinion. The Secular Coalition for America condemns the reinstatement of this inhumane and anti-choice policy.
Jeanne Shaheen, a Democratic Senator from New Hampshire
said the gag order
" ignores decades of research, instead favoring ideological politics over women and families. I will continue to stand up to President Trump and Republican leadership in Congress who are intent on rolling back women's access to reproductive health care, and will introduce bipartisan legislation to repeal the Global Gag Rule for good."
It's reported that 47,000 women die from unsafe abortions each year, and this gag order will do nothing but increase it. When women don't have legal options or someone can't help them find legal options, they seek out what is necessary.
47,000 women die because of the "pro-life" movement.
It's time we call it what it is, it's an anti-woman movement, plain and simple.
Being against abortion access is a death sentence to women.
The Republicans have waged a war on women and Trump's only been in office four days.
The resistance must grow now.
We must defend women's rights on every level.