A popular religious satire page, God, has been suspended after posting a status update that suggested the US "stop making your military so damn huge and give people medicine."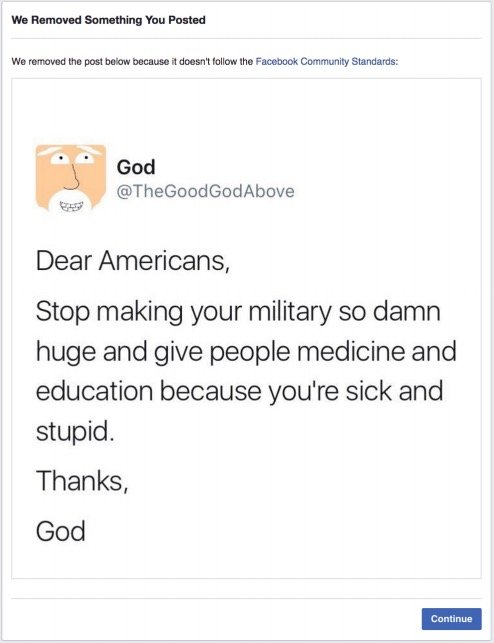 The post gathered so much hatred it seems Facebook's algorithm deemed the post inappropriate and issued a 30-day suspension.
"I posted this opinion on the day it was announced that Obamacare will be defunded and 24 million people will lose their healthcare," he said. "The opinion goes viral, gaining over 100,000 likes and 15,000 shares. A few hundred people disagree with the opinion. Rather than move on, or even use the 'angry' reaction face, what do they do? They report the opinion as being offensive."
While his page is satire, he doesn't find the Republican's plan to defund Obamacare that funny, or the fact Facebook isn't allowing him to speak his mind.
"This is not the first 30-day ban I've ever gotten so unjustly," God said. "Obviously, it's a machine algorithm. Obviously, my opinions are not for everyone. But I have just a much a right to speak My Mind as Orange Hitler does."
And what for the people who reported him as offensive?
"The same people who love that Trump speaks his mind on Twitter are the same people who freaked out about the Tweet I posted and reported it as offensive," he said. "Humans are sick and stupid and they make God go crazy."
Facebook has a history of banning accounts for posting opinions that have offended the religious. Just last year, activist Faisal Saeed Al Mutar was suspended for criticizing ISIS's relation to Islam.
People have been urging Facebook to reverse the ban, but it's unlikely they will act.