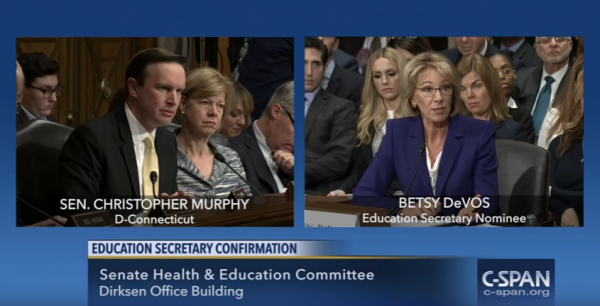 Donald Trump's pick for Secretary of Education, Betsy DeVos, would not agree with Democrats during her confirmation hearing this week saying that children may need guns in schools because of grizzly bears.
When asked directly about banning guns in schools, DeVos answered:
"I will refer back to Sen. [Mike] Enzi and the school he was talking about in Wyoming. I think probably there, I would imagine that there is probably a gun in the schools to protect from potential grizzlies."
She was then asked if she would support Trump's claim that he will end Gun Free Zones at public schools. "I will support what the president-elect does." She continued, "If the question is around gun violence and the results of that, please know that my heart bleeds and is broken for those families that have lost any individual due to gun violence."
DeVos is likely one of the least qualified people in history to ever try and secure the educational secretary position. If not the least qualified in history.
When asked about the Individuals with Disabilities Education Act (IDEA), which requires public schools to provide free and appropriate education to all students with disabilities, a federally funded program, DeVos didn't know what the program was.
She said first that states had a right to decide if they wanted to follow IDEA.
Sen. Maggie Hassan, a Democrat from New Hampshire, informed DeVos that IDEA was federally funded and asked if she still stood by her states-rights statement.
"Federal law must be followed where federal dollars are in play." Hassan then asked, "So were you unaware when I just asked you about the IDEA that it was a federal law?" DeVos responded, "I may have confused it."
Also, if you're still not convinced she is a clueless hack who is actually trying to benefit financially from this role as someone who promotes charter schools and voucher programs, her exchange with Tim Kaine was amazing.
She would not agree with Kaine that voucher-funded or charter schools should be held to the same high standard of public schools.
Kaine: "If confirmed will you insist upon equal accountability in any K-12 school or educational program that receives taxpayer funding whether public, public charter or private?"
DeVos: "I support accountability."
Kaine: "Equal accountability?"
DeVos: "I support accountability."
Kaine: "Is that a yes or a no?"
DeVos: "I support accountability."
Kaine: "Do you not want to answer my question?"

DeVos: "I support accountability."
Kaine: "Let me ask you this. I think all schools that receive taxpayer funding should be equally accountable. Do you agree?"
DeVos: "Well they don't, they are not today."
Kaine: "Well, I think they should. Do you agree with me?
DeVos: "Well no . . . "
Kaine, interrupting her, said: "You don't agree with me."
We really need to cross our fingers and hope even the most insane Republicans in the Senate realize just how unqualified DeVos is and refuse to confirm her.