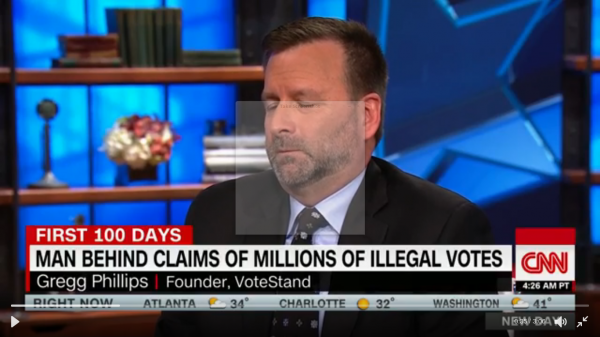 If you're going to take your case of voter fraud to CNN, you may want to be more than a conspiracy theorist and be prepared to back your claims with a fact or two.
Apparently, no one told this to Trump-approved conspiracy theorist Gregg Phillips of VoteStand.
Phillips visited CNN's New Day with Chris Cuomo and said he can prove that Hillary Clinton received at least 3 million "illegal" votes for president in 2016.
He doesn't have the evidence, though, and said he needed a few additional months to get it.
That sounds legit.
"You say you can prove it," Cuomo said of Phillips. "I say, 'OK, I trust you, you can prove it.' Show me."
"We believe it will take probably another few months to get this done," Phillips replied.
Cuomo, to his credit, didn't stop there.
"And yet, even though you need a few more months to get this done, you think you know the answer right now," Cuomo said.
"We're volunteers!" Phillips quickly replied, agitated. "We know we have the answer."
"Even though you can't prove it, you think you know?" Cuomo asked, feigning confusion.
"The numbers are actually bigger!" Phillips replied.
Like any true pseudoscientist or conspiracy theorist, Phillips believes and even said, ""You can reach a conclusion, and then still verify it."
No, you can't.
You cannot make a fact statement void of any evidence and then go search for evidence that confirms your conclusion.
Anyone with a middle school education knows you have to collect evidence first and then let the evidence dictate the truth.
This is what it looks like to live in an "alternative facts" post-truth society.
The truth is only what the administration decides the truth is.
We all know there was no massive voter fraud, the evidence is there.
However, I'll guarantee that the Trump administration "finds" exactly what they are looking for.
Watch the exchange here:
Man behind claim of millions of illegal votes says it will be months before he can provide full evidence https://t.co/puQ7tCOpf5

— New Day (@NewDay) January 27, 2017
---