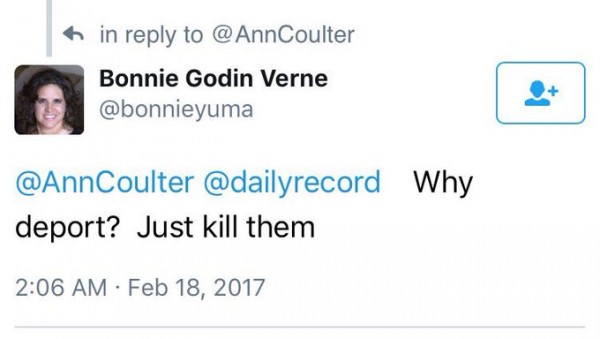 Arizona teacher Bonnie Verne resigned this week from the Pardes Jewish Day School in Scottsdale after suggesting online that immigrants should not be deported but instead killed.
"Why deport? Just kill them," Verne responded to a tweet by Ann Coulter. "Or we can just put a bullet in their head immediately," she added.
Her Twitter has since gone private and the tweets deleted, but not before screenshots had been taken.
Verne had worked at the school for 12 years as a third-grade teacher before resigning.
The school said they supported her freedom of expression, however, they felt the comments she made "have no place in our school."
"[Verne] deeply regrets having in recent days made comments using her personal social media account that were inappropriate, offensive and unbefitting of a Pardes teacher," a statement from the school reads.
Welcome to Trump's America.
Let's see the free speech warriors defend this one.