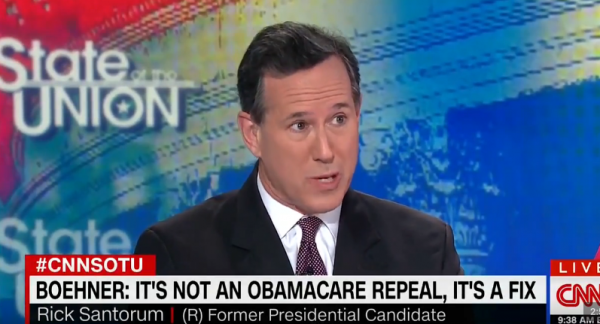 CNN contributor Rick Santorum said Sunday morning that "millions" of Americans are scamming the healthcare system by claiming to have a preexisting condition.
Without data to back up his claim, during a panel discussion, he argued that Republicans must "repeal and replace" The Affordable Care Act because Obama's provisions had damaged the entire health care industry.
"Pre-existing conditions, though it's very popular," the former Republican senator claimed, "what the reality is today that thousands, maybe approaching millions of Americans, are paying nine months for insurance. Why? Because you pay for your insurance for nine months, there's a provision in Obamacare that says you can't be thrown off your plan for three months."
"So, you stop paying in September until the end of the year," he continued. "You have a right to guaranteed [coverage for] preexisting conditions. You can buy a new plan in January. So people are paying nine months for 12 months of care. And it's happening more and more and more as people get the gig."
"Obamacare is a failure! But you're going to need 60 votes to change preexisting conditions and other things to make the system work. And that's the problem of repeal and replacing is you can't do it because it's a broken system."
This argument, made with the same baseless assertion Republicans use for welfare fraud comes at a high cost to those whose lives were saved by the ACA.
Because of the risk of someone committing fraud, Santorum and others in the Republican Party are willing to throw out cancer patients, and others living currently or with chronic illness.
After the GOP destroys the ACA there is little doubt many with pre-existing will be tossed out of their health care plans and have a hard time finding new ones, at an affordable price, willing to take them on.
The reality is, the GOP plan to destroy the ACA is a death sentence to many.