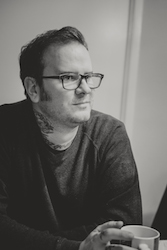 Dan is the creator of the Danthropology blog and an award-winning journalist and best-selling author of Parenting Without God. He has also written for CounterPunch, Common Dreams, Time Magazine, On Faith, Salon and many others. He maintains a full-time blog on the Patheos network called Danthropology and writes a column of the same name for American Atheist magazine. He is a Special Correspondent for American Atheists and has previously worked as a writer and editor at the Richard Dawkins Foundation for Reason and Science.
His articles and various quotes have been featured on NBC News, Washington Post, People Magazine, Christian Post, Christian Today, Religious News Service, Sojourners, Pasadena Weekly, Kentucky Kernel and others.
Dan is available for interviews and speaking engagements. If interested, you can contact him here. Abstracts of his talks are available upon request.
Dan would also like to take a moment to thank the Donors who make this site possible. Anyone who donates over $10 a month to this blog is listed below (unless they asked not to be) and I am forever grateful to them and all my other donors for helping fund this site and make it such a success. If you are interested in learning more about being a donor, click here.
Dan Ellis
Godless Engineer Podcast
Jim Arel
---
Danthropology has moved on! To keep up with my work, follow me on Twitter @danarel, like me on Facebook, and bookmark both DanArel.com and Danthropology.com.