The new CBS comedy series, Living Biblically, tells the story of a man on a journey. The series is an adaptation of the non-fiction book by A.J. Jacobs, in which a man tries to live in accordance with the Bible's teachings as close as possible.
I admit, I tiptoed into this series, looking for offense. After all, Hollywood routinely finds ways to mock faith. Some of it is because of outright hostility. Most of it is out of ignorance. However, I was surprised by the gentle comedy and overall respect for biblical principles.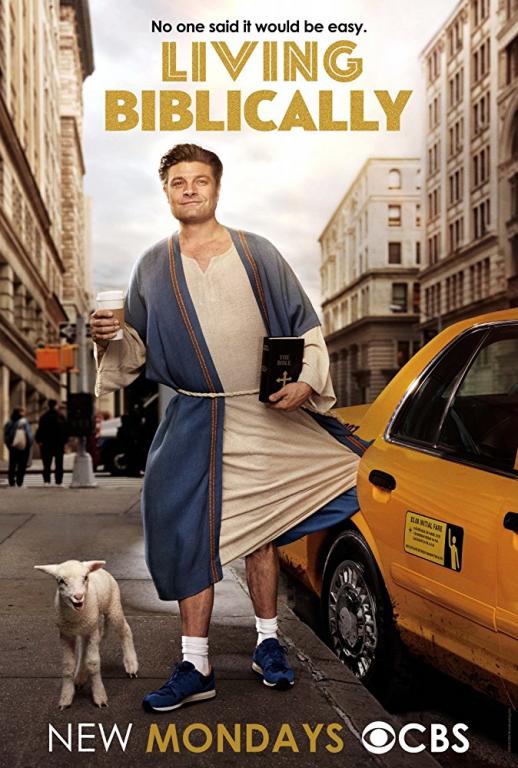 Going all in
Here's the premise, Chip is a writer and a film critic at a newspaper. After his best friend dies and his wife announces she is pregnant, he realizes his own lack of purpose. He has an epiphany and decides that since nothing else has worked, that he will follow the tenants of the Bible – 100 percent.
He enlists the aide of a priest and a rabbi to keep him straight since he hasn't opened a Bible for 20 years.
Early on, he is told that he shouldn't wear mixed fabric, so he buys an all white suit. And that his penchant for salami has to go, so he cannot eat from his wife's snack basket.
In an early episode, Chip deals with "false idols." Around a table, the spiritual advisors and Chip answer the question, "what is a false idol?" Without going into deep theology, the three accurately describe idolatry and its grip on society.
After some soul searching, Chip decides that his false idol is his cell phone, and following the example of Moses, he smashes it in a symbol of "breaking" from it's bondage.
He realizes that without a phone, his life will be different. No phone, no apps.
So he buys a fanny pack and loads up a calculator, compass, map, watch and a beeper. He is no longer reliant on his idol. He even tells gawking teenagers that "I smashed my phone because of the Bible." It actually is humorous without the snark.

We don't stone people these days
A friend of Chip's is having an affair in another episode. The rabbi tells him that the law's punishment is stoning. "But of course, we wouldn't do that today." But later, when Chip bumps into his friend who is dining with his mistress, Chip pulls a small rock from the indoor planter and plunks his buddy in the head with it.
His cheating friend eventually thanks him, as the rock was the thing that caused him to rethink his actions and start counseling with his wife.
No doubt, living a literal life according to Mosiac Law will create many future attempts at humor.
I'm not sure the living biblically part will ever venture into the New Testament. It will likely rely on Jewish dietary restrictions and various rules originally meant to preserve the Israelites from a hostile world.
There will be no discussion about the Old Covenant and the New Covenant. So, the presumption of the unknowing viewer would be to lump Christians into this legalist morass.  That's not Christianity. I would love to see Living Biblically get to Jesus, his teaching of sacrifice, respect, and redemptive love.
And how would Hollywood deal with real Christianity as opposed to the cartoon characters they have created in the past?
It's not Billy Graham, but neither is it Billy Idol
If you watch the show, you'll long for deeper theology and stronger hooks into the Gospel message. You won't find it, but seekers and an increasingly religious ignorant public might just get a taste of a life that is different than the self-indulgent world we live.
Some will find it offensive. I get it. But it is an honest reflection of a population that simply has no idea of the benefits of living a life of faith, and the beneficial living associated with rules and principles.
I'm not sure the sit com has the staying power to hold a short-attention TV public with far too many choices, but I must applaud CBS for trying to appeal to faith viewers.
And if they weren't looking to us as their target audience, at least they found a way to talk about Judeo faith that has a level of respect.