My friend Marlene Bagnull is rich in love and grace.
And based on an article she wrote more than 35 years ago for Decision Magazine, she is also wise.  Entitled, "When Families Don't Get Along – Peace at Christmas" the piece strikes a chord in many lives.
We love to sing the Silent Night, when all is calm, all is bright," but the reality is that in many families, the season is far from perfect. In fact, it's often rough and cloudy.  We have memories, some warm and fuzzy, others are painful and sad.
The people who have been on earth to love us the deepest are also the ones who can inflict the deepest wounds. The words, those things said in haste or in anger cling to the family Yule Log like a bitter pitch that sticks and smokes when close to the heat.
And for whatever reason, the Holidays can bring all of this to a head.
I have my own family members who are sunk so deep in the past that even the holidays cannot pull them out.  For some, I understand their bitterness. But most, I really don't get it.  "After all," I reason, "It's Christmas."
But, according to Marlene, I shouldn't set unrealistic expectations.  She writes, "It is unlikely that people who have been less than pleasant throughout the year will suddenly become nice just because it is Christmas."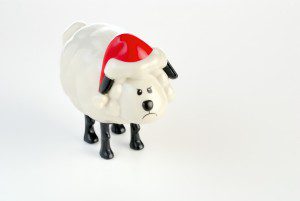 I have family members that I have zero chance of feuding on Christmas because they are nowhere to be found.  They've checked out of the experience.  Maybe they are protecting themselves.  Maybe they have decided to not wade in waters that are less than sure.
Some family members rise above the perceptions and seek each other, spending time around the dinner table or the living room, trying to make it work.  I believe this is where healing can being.
Relationships are tough because we are human. Just because one or both of the parties are  Christians doesn't automatically mean there are no problems.
Much of Jesus teaching and Paul's writings about relationships for good reason – they aren't easy.
Marlene encourages us to "not spoil the joy of Christmas" with selfishness and instead be agents of grace. "Respond with love and forgiveness."
I will commit to try to set the example, to take the high road with every strained relationship. I will go out of my way not feed the flames.  This is a Christmas gift I can give – the gift of hope.
Ultimately, this season is about man being reconciled to God. Once we establish that relationship, Marlene reminds us that "If we want peace in the family, it must begin with me."
You can read the rest of her article here.
How about you? How's your family? What's your attitude going in?