The following is excerpted from my new book, Living a Life of Yes: How One Word Changes Everything, 2019, Illumify Media
Living this life comes to an end when we allow shame, from any source, to have power over us.
Shame is that terrible, private feeling that something is wrong with us—that we are somehow defective as a person, that we are irreparably damaged. That if anyone really knew what we were like, we would be rejected.
Curt Thompson wrote these words in his book The Soul of Shame: "The most powerful thing that shame does is truncate our power to create."
That isn't just for the painter or poet. It's for all us. Shame causes us to quit searching. We stop the quest for the amazing. We lose our sense of wonder. We forget the joy of the simple.
Your past is part of your story. There's no escaping that. But it can also be part of your victory.
Scorn the shame
In Luke 13, Jesus was teaching in one of the synagogues.
"And, behold, there was a woman which had a spirit of infirmity eighteen years, and was bowed together, and could in no wise lift up herself" (Luke 13:11 KJV).
Think of this woman. Some of her infirmity was physical, no doubt caused by a physical condition.
Some of it was emotional, having endured the mental anguish of eighteen years of walking stooped over.
Some of it was just a broken spirit. If you can't stand straight, then before long, you'll just gaze at the ground and figure that's your destiny.
There are some of you who are reading this, and you are stooped from the burden of your shame. You feel like a failure. You feel like no one cares. You feel like giving up.
When Jesus hung on the cross, he was naked, bloodied, humiliated before the entire world. The sign hung above his head—King—it was meant to mock him. He should have felt shame: after all, he was exposed; plus, he had all our sins on his back. And yet, we are told in Hebrews
12:2 that "he endured the cross, scorning its shame."
In other words, he took the sins of the world—the sins you committed and the sins committed against you—and he bore them on the cross, on his body. And yet, he scorned the shame.
Friends, the shame is over. That dark shadow that has plagued you for years is over and done.
"And when Jesus saw her, he called her to him, and said unto her, Woman, thou art loosed from thine infrmity. And he laid his hands on her and immediately she was made straight, and glorified God" (Luke 13:12–13 KJV).
"I did something bad" vs. "I am bad"
And there is a difference between guilt and shame.
Guilt focuses on behavior. Shame focuses on self.
Guilt says, "I did something bad." Shame says, "I am bad."
If you feel guilty about something, make it right and then press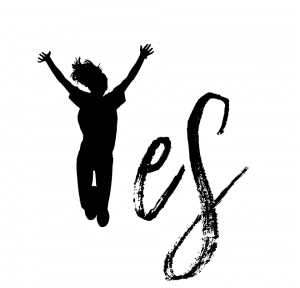 on into the person God has created you to be. This concept is called, "repentance" and has tremendous healing in itself. But repentance is a stepping stone to restoration of relationship. It's not meant to be a stone around your neck.
You might be holding back from saying "yes" because of the corrosive, destructive effect of shame. But it has no place in your life.
Don't let shame hold you back. Stand up. Say "yes"! And somewhere, living in that new place, you might just stumble into what you were meant to do all along. You might just make an impact that is shockingly beautiful to an ugly world. You might find yourself in a fertile field, where your actions can produce an abundant harvest.
—(Excerpted from Living a Life of Yes, David Rupert, 2019, Illumify Publications)—
Additional reading, What were you thinking? Overcoming the pains of regret.