I love the news.
In fact, my radio dial doesn't even know there's an FM, that wonderful invention introduced 60 years ago. Stuck in a world of the latest happenings, I'm following the trends of the moment.  I listen to commentary and debate and all the swirling gestures of a world gone crazy. I watch the news at home and read the paper in the morning.
Go ahead, ask me. I'll tell you the latest.
But it's dragging me down.
Clinton, Saunders, Trump — what a pain! China, Italy, the Middle East – I need release! Housing, economy and jobs – just makes my head hurt!
Yes, I know that I'm a citizen and need to be informed and engaged. I know that I cannot operate in a vacuum, a self imposed exile away from the cares of my planet.
But this isn't me.
I'm an optimist. I see things in bright colors. I look for the sliver of light on a cloudy day, a single star in the darkest night. That's who I am.
But I'm often reluctant to express the hope, the joy that used to drive my heart. I hold back because there's so much bad news. The economy, the political scene, and the world all seems to be falling apart. Tack on interpersonal relationship issues with family and friends, people who should be allies but have chosen to be foes, and it swirls around like an angry storm.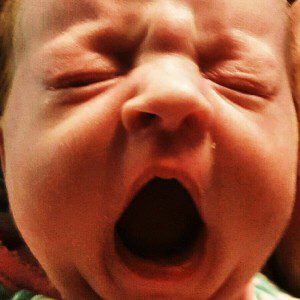 As a new grandpa, I look into this little girl's face and she knows none of this. She sleeps when she's tired. She cries when she's hungry. She laughs when she's happy. Simple. Pure. Innocent.
Yet deep within me there is a spring, a desire to tell the world. "It's going to work out." You see, I have a God who owns the cattle on a thousand hills, who can reach across time, who can change hearts. I have a God who never gave up on me — or you.
I'm a reluctant optimist. And I shouldn't be.