I came across this amazing Santa Fe Artist, Bernadette Freeman, who goes by the name Deco-Collage.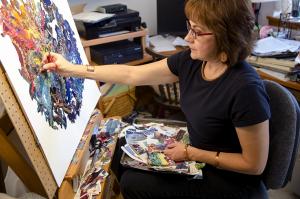 She has mastered Decoupage, which is essentially gluing paper stacked on other paper. But her projects go beyond my 7th grade art project. Her projects use thousands of bits of paper, all composed in a mosaic that is explicitly detailed up close and incredibly cohesive from a distance.
Her Lincoln portrait hung in the White House for several years before returning home. The portrait incorporates photos of Civil War generals, maps, letters by Lincoln, and other artifacts of the war.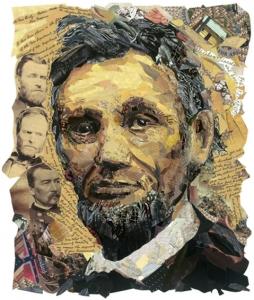 Of particular interest is one portion of the portrait that is composed of the actual letter to Mrs. Bixby, which Lincoln wrote, offering condolences following the death of her five sons in the Civil War.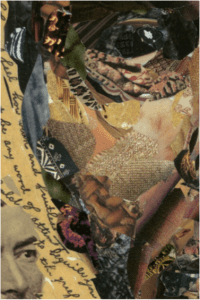 The deeper I looked at her work, the more intrigued I became. She weaves in life, full of emotions and reality, and then pin drops Scripture messages into much of her intricate artwork. She also featured decoupage called Hannah Exulting, whose song of praise for the birth of her son Samuel was also echoed by Mary, the mother of Jesus in the Magnificat. Within her prayer is embodied heartache, sadness, waiting and joy.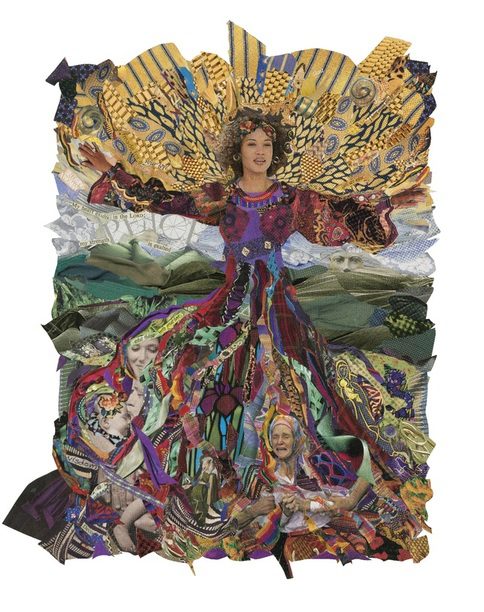 But I was most impressed by her work surrounding my favorite word — 'Yes'. She created a huge work called, "Molly Bloom's Closing Soliloquy," that reflects James Joyce's final paragraphs in Ulysses.
The poem ends like this, "I was a Flower of the mountain yes when I put the rose in my hair like the Andalusian girls used or shall I wear a red yes and how he kissed me under the Moorish wall and I thought well as well him as another and then I asked him with my eyes to ask again yes and then he asked me would I yes to say yes my mountain flower and first I put my arms around him yes and drew him down to me so he could feel my breasts all perfume yes and his heart was going like mad and yes I said yes I will Yes."
But Bernadette sees "yes" beyond Joyce's words. She told me this, "What I wanted to do is to incorporate the words of the soliloquy – 'yes, yes, yes,' over and over again for me. Yes is an affirmation of life and openness." Watch this short interview.
Within the work are scenes from the Old Testament and the Last Supper. It's not simple and your eyes lovingly focus in and then out, trying to take it all in.
As an artist, Bernadette has to live by "yes." Otherwise, "It's putting an obstacle. It's stopping the flow of yes."
Yes for this artist is important, as it has helped her create beautiful things. But Yes is also for you and I. We cannot stop creating, looking for the deeper meaning. We must have a vision of where we want to be and press on, no matter what the obstacle.
If you wish to purchase any of Bernadette's work, please visit www.deco-collage.com.