Much of the U.S.  is smothered in smoke. There are some 80 fires ablaze across many Western States, but the two largest – The Dixie Fire in California and the Bootleg Fire in Oregon have combined to burn almost a million acres.
People as far as Kentucky, Minnesota, Nashville, and even Boston – and many other locations are reporting hazy conditions.
I'm in Colorado, 1,100 miles away, and I cannot see the hill just across the way.  On Saturday, Denver was ranked the worst city in the world for air quality, according to a real-time air quality information platform on IQAir's website.
The smoke has travelled the high winds of the atmosphere and coated the sky with a brown brush. Health authorities have told people to avoid outdoor exercise and for those with breathing issues to remain inside. Residents are advised to reduce "heavy or prolonged exertion" as the amount of particulates in the air increases sharply
Living out the consequences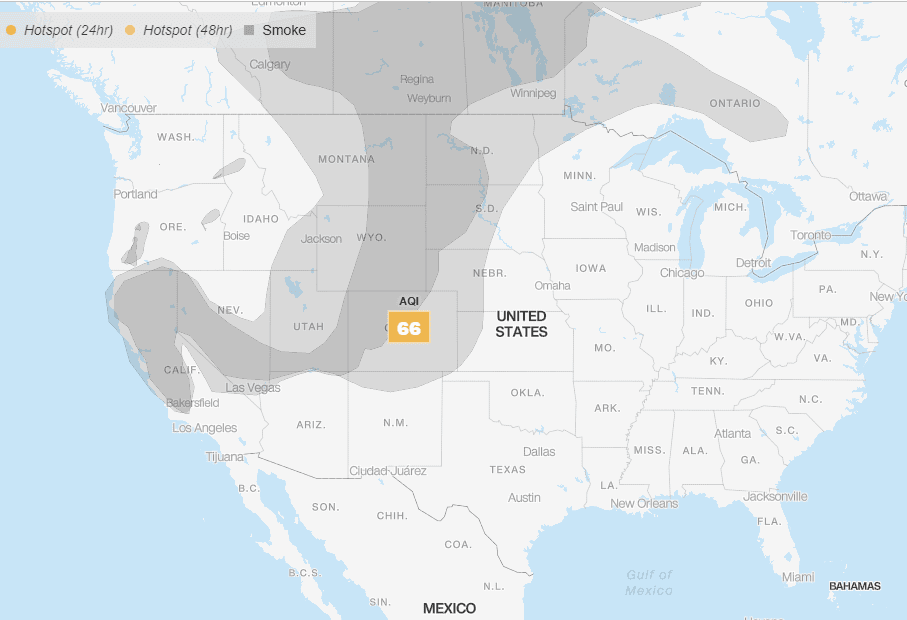 I didn't start this fire. I cannot put this fire out. But right now it's part of our lives and a thousand other communities share the discomfort as the smoke and ash of destruction rain down on our world.
It's the smoke of a distant fire.
Some have been victims of random crimes, innocent bystanders who pay a price. Others have suffered at the hands of nature's worst – flames, flood waters, tornado's winds, winter's ice – and lost everything.
Many around the world have been impacted by wars they didn't start, in battles carried out for the sake of pride or revenge. They've paid the price of government that forgets its citizens, or profit seekers who seek only their gain, or men and women who do not see beyond their own view.
Making an Impact
There are consequences to our actions. The ripples of my own selfishness in the past no doubt have hurt family and friends and strangers.  And likely your actions have impacted others that you'll never see or meet.
Even as the ash from destruction falls on the innocent, so too can the seeds of life benefit the unknown.
May my actions be welcome intrusions of joy and righteousness instead of stealthy strangers that strip joy from the innocent.
That's impact. That's legacy. That's a gift that lives beyond my own existence.