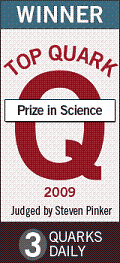 I'm thrilled to announce that 3 Quarks Daily has officially chosen the winners of their 2009 Science Prize, and their first-place award, the Top Quark, has gone to Daylight Atheism!
Here's what 3QD's celebrity judge, Professor Steven Pinker, had to say:
Daylight Atheism's Bands of Iron is my top pick. He starts with an something that attracts your attention purely on aesthetic grounds – stripes in a rock. He invokes it with deep, non-obvious, yet understandable principles, at the same time illuminating one of the most interesting phenomena in science – the coevolution of early life and the planet Earth –with a nod to a current issue for good measure.
Considering the quality of the competition, I'm amazed and humbled by this award. It's truly an honor. My deepest thanks to Prof. Steven Pinker, the editors of 3 Quarks Daily, and everyone who voted for me!