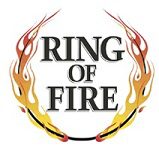 I'm very pleased to announce that I'm going to be on Ring of Fire Radio this weekend, discussing my recent AlterNet article on creationism with Mike Papantonio. (Some of you may remember Papantonio as the voice of reason in Jesus Camp. They also used to be part of Air America, and it's good to see they've forged ahead on their own.)
There's a list of local stations that carry Ring of Fire. There's also a downloadable podcast, though it's not free, I'm afraid. I believe it's also available through the iTunes store.
If you do catch the interview, let me know what you think! I'm not the best at extemporaneous speaking, I have to admit – I prefer to have my speeches prepared in advance. But I'm thrilled for the opportunity, and this ought to be a lot of fun.