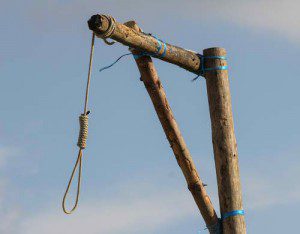 I really liked this article on Salon showcasing two-sentence horror stories written by professional authors. Notwithstanding the current popularity of blood-and-guts horror (more of an appeal to disgust than to fear, I've always thought), a good horror story is always scariest because of what it implies, not of what it reveals, and this challenge just carries that principle through to its conclusion. I thought I'd try my hand at it, so in honor of Halloween and everything that lurks in the dark, here's mine:
"By God's will, we have triumphed," he said with a grim smile, looking up at the hooded body dangling, gently swaying and twisting in the breeze. "This was the last of them, and now there is no one left on Earth but we, the righteous ones."
---
I thought of another one yesterday night:
Given the results implied by reasonable inputs to the Drake Equation, we always believed there was likely to be other intelligent life in the universe, but we never knew what form it might take. Until the day when an astronomer peered into his deep-space telescope, and saw an eyeball, the size of galaxies, looking back at him.
And for an homage to Edgar Allan Poe, here's one that fits in a tweet!
I walled Fortunato up three months ago. I don't understand why the screams and the scratching haven't stopped yet. #TwoSentenceHorrorStories

— Adam Lee (@DaylightAtheism) October 31, 2013