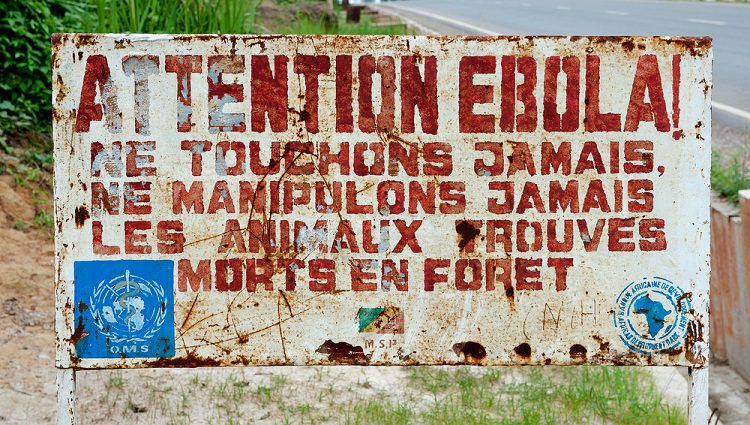 The worst-ever outbreak of Ebola virus is still raging in West Africa. There are over 1,500 confirmed deaths so far – including, heartbreakingly, doctors and nurses treating other sufferers – though the real number is probably much higher, since widespread fear and mistrust means that many of the sick never come forward.
The epidemic has also been helped along by traditional herbalists who claim they can treat Ebola, but only end up spreading the virus. Some people don't even believe it exists.
Foreigners and aid workers have also fallen ill, including two American medical missionaries, Dr. Kent Brantly and Nancy Writebol, who worked for the evangelical group Samaritan's Purse. Both of them were flown home so they could receive treatment in the U.S.A., which was successful: last month, both Brantly and Writebol were declared recovered and discharged from the hospital. Brantly called it a "miraculous day" (warning: link has autoplay video) and made a statement which included this:
"I did not know then, but I have learned since, that there were thousands, maybe even millions of people around the world praying for me throughout that week, and even still today. And I have heard story after story of how this situation has impacted the lives of individuals around the globe – both among my friends and family, and also among complete strangers. I cannot thank you enough for your prayers and your support. But what I can tell you is that I serve a faithful God who answers prayers.

Through the care of the Samaritan's Purse and SIM missionary team in Liberia, the use of an experimental drug, and the expertise and resources of the health care team at Emory University Hospital, God saved my life – a direct answer to thousands and thousands of prayers.

My dear friend, Nancy Writebol, upon her release from the hospital, wanted me to share her gratitude for all the prayers on her behalf. As she walked out of her isolation room, all she could say was, 'To God be the glory.'"
I don't wish harm on anyone, and I'm glad they're both recovered, however it came about. But reading this statement, I couldn't help noticing how little credit it gives to the people who deserve it the most.
Brantly credits his recovery mainly to God and the people praying for him, and only secondarily to his doctors. Yet both he and Writebol were beneficiaries of the most advanced medical treatment in the world: a private flight on a specially equipped medical plane, state-of-the-art hospital care, and a dose of ZMapp, an experimental transgenic antibody designed to combat Ebola. Yet Brantly's statement is written as if the prayers on their behalf were the true curative agent, and all these therapies developed by human research and ingenuity just happened to be the means by which those prayers were realized. (It reminds me of an old essay by an atheist Coast Guard officer, "The Work Gods Are Too Busy to Tend To", about how he and his crew would brave the dangers of the ocean to rescue people in distress at sea, only to have them thank God instead.)
I guarantee there's no shortage of prayers being offered up in panic-stricken West Africa. Yet, somehow, the cure rate among African sufferers is much lower than it is among Western beneficiaries of prayer who also happen to have access to high-tech medicine. What conclusion should we draw from this?
And then there's the inherent absurdity of believers praying for a cure for Ebola, since if their beliefs are correct, God was the one who created the virus in the first place. Do they believe that the all-knowing creator of the universe didn't realize it was a threat to human life until we told him so? Or do they believe that God unleashed this virus on humanity, knowing it was lethal, but might be persuaded to relent in a few rare cases if we plead with him? Is that the behavior of a being whom anyone would deem worthy of worship?
Image credit: Sergey Uryadnikov / Shutterstock.com