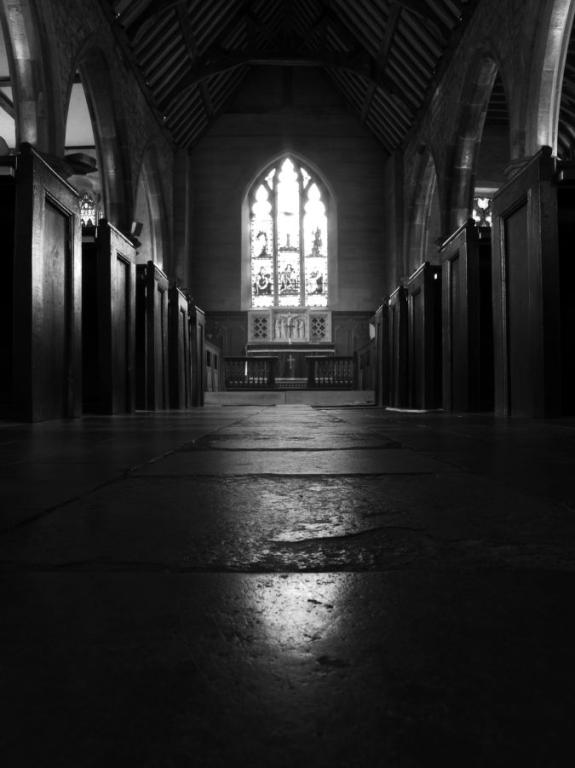 Although it slipped out of the headlines for a while, the Roman Catholic church's plague of priests raping and molesting children hasn't gone away. This week, we got a jolting reminder of that:
Two Roman Catholic bishops who led a central Pennsylvania diocese helped cover up the sexual abuse of hundreds of children by more than 50 priests or religious leaders over a 40-year period, according to a grand jury report issued on Tuesday.
The grand jury's report, which is based on documents from a secret church archive seized by law enforcement, paints a grim picture of decades of abuse by pedophile priests in the Altoona-Johnstown diocese. As in many other stories like this, the victims were mostly children preyed upon by religious figures they and their parents had been taught to trust, and the predators themselves were protected and sheltered by their higher-ups in the church. Those who came forward were alternately paid off or bullied into silence with threats of excommunication, while local law enforcement deferred to the church and perpetuated its cover-up:
One diocesan official under Hogan, Monsignor Philip Saylor, told the grand jury that church officials held such sway in the eight-county diocese that "the police and civil authorities would often defer to the diocese" when priests were accused of abuse, the report said.
One of the grand jury's most startling findings is that the sexual assault of children in the diocese was so routine, Bishop Joseph Adamec drew up a chart specifying how much hush money the victims would get depending on what exactly was done to them:
The report said the bishop created a "pay-out chart" to help guide how much victims would receive from the church. Victims fondled over their clothes were to be paid $10,000 to $25,000; fondled under their clothes or subjected to masturbation, $15,000 to $40,000; subjected to forced oral sex, $25,000 to $75,000; subjected to forced sodomy or intercourse, $50,000 to $175,000.
The grand jury's report was particularly scathing about one priest, Francis McCaa, calling him "a monster" who sexually assaulted altar boys "in almost every interaction which would permit physical contact" – potentially adding up to hundreds of victims over several decades. The report blames Adamec and Bishop James Hogan for knowing that the abuse was going on and doing nothing to stop it:
"Those men wrote their legacy in the tears of children," the report says of Hogan and Adamec.
It's not just in Pennsylvania, either. Also this week, George Pell, now one of the Vatican's top officials, testified about his involvement in the case of Gerald Ridsdale, "Australia's worst pedophile priest", who was convicted in the 1990s of abusing more than 50 children. Ridsdale, too, was sheltered by church officials who repeatedly moved him around, helping him find new victims everywhere he went. While Pell wasn't Ridsdale's superior in the 1970s, he advised the man who was, Bishop Ronald Mulkearns.
In his testimony (by video link from the Vatican), Pell repeatedly professed incurious ignorance as to why Ridsdale kept getting shuffled from parish to parish. He insisted that although rumors about Ridsdale were commonplace and police had even reported their suspicions about him to the church, he didn't know nothin', no way, no how. These incredible denials brought heckling and jeers from the viewers' gallery:
"I didn't know whether it was common knowledge or whether it wasn't. It's a sad story and it wasn't of much interest to me," Pell said, bringing audible gasps and jeers from the public gallery.
In yet another case discussed at the same hearing, Pell admitted that a schoolboy came to him in the mid-1970s to tell him that another church figure, Edward Dowlan, was "misbehaving with boys". Pell did nothing, because – unbelievably – he claimed that the boy who reported the abuse hadn't specifically asked him to:
"People had a different attitude then," he responded. "There were no specifics about the activity, how serious it was and the boy wasn't asking me to do anything about it, but just lamenting and mentioning it." (source)
Dowlan went on to molest dozens more children before his eventual arrest and imprisonment. (See here for the full history, including details of how vigorously the church defended him when his crimes came to light.)
The question in all these stories is what can be done now. Unfortunately, most of these cases happened decades ago, and many of the abusers and their enablers are dead or protected by an expired statute of limitations. As bitter a pill as it is to swallow, we have to face up to the fact that these predators have escaped justice.
But what we can do, even if the law can't intervene, is to remember. We should remember what the Catholic church did when it was powerful. We should remember that, when their word was law and they were above scrutiny, they tortured children, wrecked lives, and shielded the perpetrators from consequence. We should remember that they put their own institutional reputation above the demands of justice and basic human decency. We should remember that when they knew full well what was being done in their name, they looked away and permitted it to continue. And when they claim moral authority over the rest of us – to better understand God's will, to have a deeper insight into truth and goodness – we should remember what they did in the shadows, when they thought no one would ever find out.