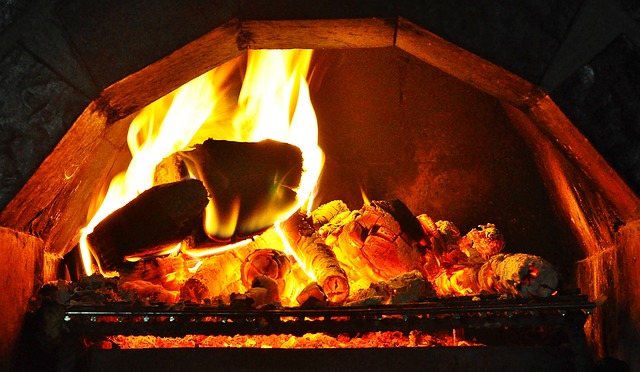 It was a chilly autumn night, and I was up late in my study. In the hearth, a bright blaze of logs had long since crumbled into glowing coals, filling the room with warmth. Outside, an orange harvest moon hung low over dark treetops, and jack-o-lanterns hid among the tangled stubble of the garden path, their grinning faces reflected in the dark glass of the window.
My thoughts were growing heavy, turning pleasurably to sleep, when I was roused by a sudden, sharp rapping at the door. The knocking echoed like thunder through the slumbering halls of my house.
I hadn't been expecting company. Given the late hour, I guessed it might be a traveler seeking refuge from the chill and the wild wind. I was tired, but hospitality took precedence, so I went to let them in.
"Welcome, stranger!" I said, throwing open the door. "Come in, be warmed and filled. I can offer— Oh. It's you."
The Tempter was standing on the threshold. The night wind whipped around his feet, sending dried leaves skittering into my home. He looked straight at me with a glow like twin candle flames hanging behind his eyes.
"I'll hang up my own coat," he offered with a grin.
"Be my guest," I said dryly.
I picked up a poker and stoked the fireplace until the coals sprang into renewed life, brightening the room. The Tempter pulled up a chaise longue and sprawled his long, lanky form carelessly over it, one leg hanging off the side.
"I'm surprised to see you," I said. "I haven't been feeling especially gloomy or pessimistic. The opposite, if anything."
"That's why I'm here. When you get overconfident, it draws me to come. There's a balance to these things."
"Then tell me," I said, resting my chin on folded hands. "What do you have to say for yourself?"
"I would have thought you'd have ample reason for gloom," the Tempter said, as if surprised. "The election is almost upon us, and just look at the candidates. A highly qualified public servant whose election would be a historic first, against a cartoonishly racist sociopath and laughably obvious con artist. And they're still neck and neck!"
"It's not quite as close as that," I said. "Anyway, he won't win."
"You shouldn't be so confident about predicting the future," the Tempter replied. "Even now, we can't rule it out. But let's say you're right. Let's say he loses. Even so, doesn't it trouble you that he came so close?"
"That's not a referendum on the merits of the candidates. It's a predictable consequence of polarization. The party that nominated the sociopath has spent decades convincing itself that everyone like – well, like me – is pure evil, that we have to be defeated at any cost. Of course they feel compelled to support whoever's carrying their banner. Even at that, his vile behavior is persuading many of their usual supporters to rethink their loyalties."
"Ah, but that's precisely my point," the Tempter said, grinning over steepled fingers. "What if next time it's a sociopath without personal failings that are… quite so obvious? What if the same ideas come back in a prettier package? It took someone this crude and outrageous to drive a wedge into their coalition. And even so, there have been more who've fallen in line than who've departed."
"You're the one who told me not to be so confident about predicting the future," I countered. "Yes, this racist ideology could come back in another form. On the other hand, maybe it won't. The sociopath could fail so badly that it discredits his cause for good. Maybe this will be the wakeup call his party needs to realize that pandering to prejudice is a losing strategy, as well as being morally wrong. This election could be the hot iron that sears their consciences. It could force them to do the soul-searching they've been putting off for so long."
"Ever the optimist," the Tempter chuckled. "Let me paint you a likelier picture. There are millions of people – call them the deplorables – who cheer for the sociopath not in spite of, but because of what he represents. And for the first time, they have a candidate who says exactly what they want to hear, rather than courting their support in veiled language. A first taste of blood, so to speak, and it's emboldened them. They're not going to disappear after the election. They're going to be a menace for years to come."
"But these 'deplorables' are a demographic dead end. That's been obvious for a long time. Even if they feel emboldened to spew out their vileness in public, they'll be drowned out in a country that's getting more diverse, more secular and more liberal with every passing year."
The Tempter smirked. A log shifted and fell in the fireplace, sending sparks flitting up the chimney.
"You speak as if everyone who's not supporting the sociopath is on the same side, that they can form a permanent governing majority. Again, that's a pleasant fantasy. Even if they're temporarily unified, in the long term, that's an alliance that can't hold. Many of those groups want very different things – especially the secular voters, who are out on a peninsula by themselves as far as most of the country is concerned. How large can the liberal coalition be before it cracks under the strain of its own internal tensions?"
"No coalition is forever, in politics or anywhere else," I said. "No one doubts that. But your mistake is to argue as if these two coalitions run on separate tracks, unconnected to each other. In reality, just the opposite is true. It's the very existence of the deplorable coalition that's induced the rest of us to band together. Those disagreements among liberals you spoke of do exist, but they take a back seat to the urgency of stopping those who are opposed to the equalities we all hold dear. If that threat vanishes one day, then perhaps we'll have to hash out our differences. That's a debate I'd welcome the opportunity to have."
"But this isn't an evenly matched contest," the Tempter said. "The deplorables have the advantage of being unified in purpose and highly motivated. They always have been. That's why they keep winning elections even if they're a numerical minority. A small, cohesive force beats a large and disorganized one every time."
"Not when the larger force is ready for them," I replied. "They may be unified in purpose, but they can't swing a national election by themselves. They can only win when they persuade others to go along with them. And to do that, they have to disguise their true aims. If this election has done nothing else, it's ruined that pretense. It may have emboldened the worst elements of the other side, but it's also made their true nature impossible to deny. That's why we're seeing the other party splinter. That's why we're seeing people of conscience and principle turn against them, even conservatives. And if there aren't enough of those people to add up to a majority – if the bigoted and the xenophobic and the regressive and the fearful can sweep an election all by themselves… well, in that case I'd concede the field to you. But I don't think I'll have to."
The Tempter glowered at me.
"We'll see soon enough," he said, a dark promise in his voice.
The fireplace flared up again, its light washing over him, casting his shadow distorted and gigantic on the opposite wall. Then he was the shadow, looming above, drawing all light from the room—
I woke up with a start. Blinking to clear my vision, I looked around.
I was still in my study, sprawled over the desk where I'd fallen asleep. The fireplace had burned down to embers, and outside the window, the night was absolute. The door was locked and bolted, with no sign any visitor had ever passed through it. But when I stood up to check the whole house, there was a crunch – and I looked down to see a stray fallen leaf, crackling and dry, under my foot.