I'm continually surprised by what people are willing to declare a "charitable" cause and ask others for money for. This week, I got a solicitation in the mail that pushes those boundaries even further: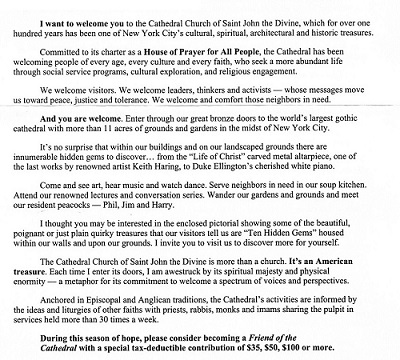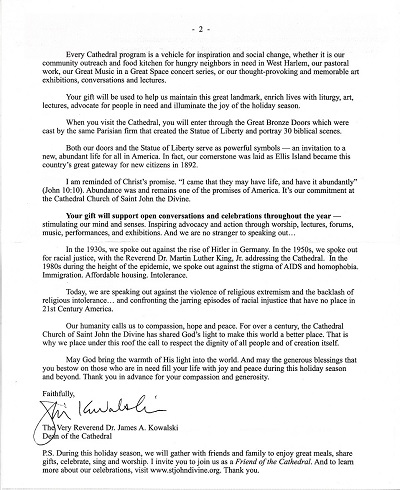 This letter is asking for money to help pay for the upkeep of St. John the Divine, a huge Episcopal cathedral on the upper west side of Manhattan. Ironically, I know this building well – it's right down the block from where I lived in Morningside Heights when I was in Columbia.
Although the foundation was laid in 1892, the cathedral still isn't finished (!). Over the decades, work has progressed sporadically, sometimes halting for decades at a time due to wars, lack of money, or changing architectural plans. A fire in 2001 damaged the interior and set work back even further. As far as I know, there haven't been any serious attempts to complete the building in many years. Judging by the letter, it looks as if they're now asking for money just to restore and maintain what's already been done.
Now more than ever, a massive, towering cathedral like this one seems like a white elephant. It's a relic of an era when religion possessed far more wealth and secular power than it has now, and built on a scale to match. However, one could argue that it's become a symbol in a very different way: the inability to finish it is a marker of Christianity's continuing demographic decline. It's certainly plausible that institutional support from the Episcopal church is drying up as mainline Protestantism dwindles, and that's why they're appealing to the public.
The letter strives to be ecumenical by calling St. John "a house of prayer for all people", but that obviously rings hollow to those of us who don't believe in prayer. They may boast of their status as a New York City landmark or their involvement in history, but this can't hide or alter the fact that this is a church. However many art emplacements or interfaith services they hold there, it's still devoted to proselytizing for a specific brand of religious beliefs.
It takes chutzpah to ask the general public for money so that a sectarian denomination can build its own churches. If the Anglicans need funds for construction or upkeep of their cathedrals, they should go to their own members. And if that doesn't yield enough to meet their needs, they ought to draw the obvious conclusion.