I wrote in September about the forthcoming publication of my book with Andrew Murtagh, Meta: On God, the Big Questions, and the Just City (An Uncommon Exchange). Today, I have a further announcement: I'm pleased to unveil the cover art!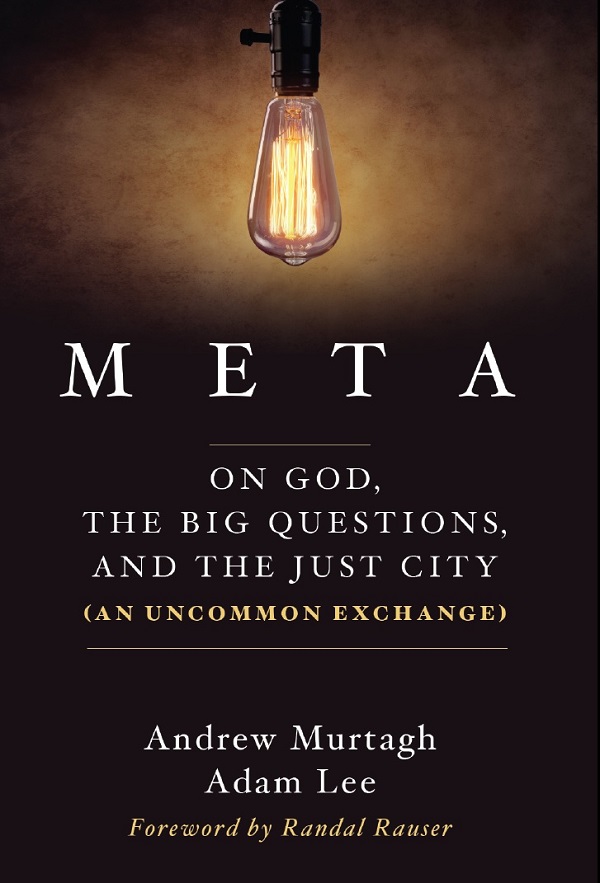 If you'd like to read my original posts with Andrew, they're here – but the book will have revised and expanded versions, as well as significant new material. You can also read my answers to questions by Catholic commenters at Indianapolis Theology on Tap.
Here are some early reviews:
"Andrew Murtagh and Adam Lee provide a model of how conversations in day-to-day life can be touched by the philosophical spirit—one that seeks actual reasons for accepting or rejecting various claims, that acknowledges the limitations of one's own perspective, and that is open to altering one's views in the evolving endeavor to discern what is true and to order one's life accordingly."

—William Jaworski, Ph.D., Associate Professor of Philosophy at Fordham University and author of Structure and the Metaphysics of Mind
"A bold journey… The nature of the good, the existence of God, faith and reason, the problem of evil, the historicity of Jesus, consciousness, heaven, causation, justice, church and state, and abortion, it's all here… If you share Murtagh and Lee's passion for the friendly pursuit of truth across deep intellectual divides, then Meta is for you."

—Randal Rauser, Ph.D., Professor of Historical Theology at Taylor Seminary and author of An Atheist and a Christian Walk Into a Bar…
"Perhaps you have grown tired of scholarly dialogues that regularly lose the audience in technicalities, or where opponents scream over each other so neither can be heard. If you enjoy dialogues but refuse to pay these prices, try this discussion between Andrew Murtagh (a Christian) and Adam Lee (an atheist)."

—Gary Habermas, Ph.D., Distinguished Research Professor & Chair of Philosophy at Liberty Baptist Theological Seminary and author of The Historical Jesus
"A theist and an atheist walk into a radio station, and out come a brilliant series of letters. Thoughtful, witty, respectful – Lee's and Murtagh's extended conversation about the nature of truth, existence, and morality transcends competition and spectacle."

—Katherine Stewart, journalist and author of The Good News Club: The Religious Right's Stealth Assault on America's Children
I'm expecting to have a publication date very soon. Watch this space for more announcements, and don't forget my publications page for more information on this and my other books.