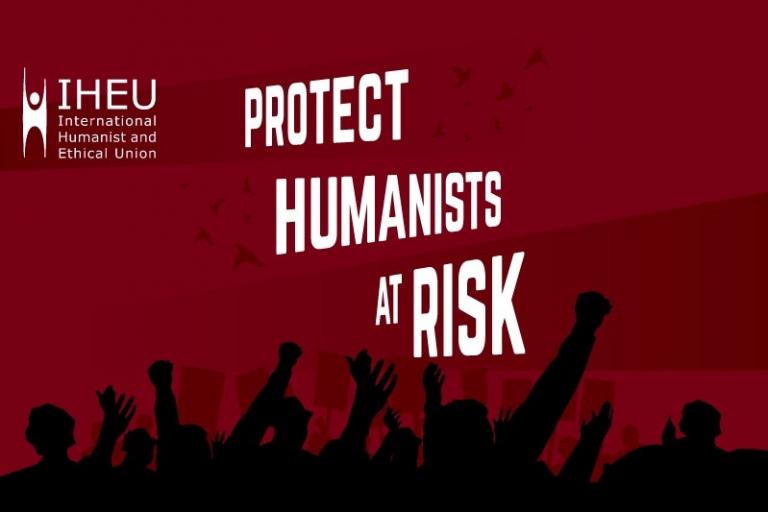 I've given up hope for Bangladesh, where Islamist gangs continue to murder freethinkers and atheists with impunity while the government sits on its hands. The latest martyr to reason is the publisher Shahzahan Bachchu, who was assassinated earlier this month.
Since Bangladesh's government can't or won't protect its citizens, the only recourse I see for secularists is to leave the country. Thankfully, the International Humanist and Ethical Union is making this possible, there and elsewhere, through its Protect Humanists at Risk crowdfunding campaign.
The campaign has a threefold purpose: offering individual support to humanists under direct threat of violence, political campaigns and advocacy for those facing government persecution (e.g., from blasphemy or apostasy laws), and research and documentation like their annual Freedom of Thought Report.
To make this continued work possible, they're looking to raise around $26,000 – to my mind, a very small sum for such a vital cause. I'm happy to endorse it and will be making a donation myself. From their crowdfunding page:
12 countries can sentence atheists to death under "apostasy" laws.

In many more countries, "blasphemy" laws are used to stop humanists promoting human rights, including women's rights, LGBTI rights and non-religious rights, when they are accused of "insulting religion".

In recent years, freethinkers have been attacked in countries including Pakistan, Bangladesh, Maldives and India.

Humanists have been threatened with prosecution or violence in countries including Malaysia, Egypt, Afghanistan and Iran.

People have been prosecuted by the state for crimes such as "apostasy" or "promoting atheism" or "enmity against God" in countries including Saudi Arabia, Iran, Sudan and Pakistan.

And in yet other countries including Poland, Moldova, Turkey, Hungary, Bulgaria, Russia and the United States, populist movements and demagogic leaders have coupled with authoritarian religious movements, creating a toxic atmosphere for democracy, threatening secularism and non-religious rights.

But there is hope…

The International Humanist and Ethical Union is working to change all this.

We advise and directly support individual humanists at verified risk, from countries where prosecution or violence threaten their fundamental human rights.

We advocate human rights, and highlight cases where humanists have been persecuted or prosecuted, at the United Nations Human Rights Council and other international forums.

We research, record and monitor discrimination and persecution against the non-religious in our ground-breaking Freedom of Thought Report.

And with the support of our Member Organizations around the world, we unite the global humanist movement: providing information, sharing best practice and acting as a hub and support network for humanists everywhere.

The IHEU is recognised as a global leader in highlighting the persecution of humanists, atheists and secularists. We have transformed the way that human rights for non-religious people are seen, drawing world-wide attention to the targeted violence and systematic discrimination faced in many countries.

In the past 12 months alone…

* We have supported and advised 24 individuals and groups at risk from 9 different countries.

* We campaigned to protect members of the Malaysian Atheist group in Kuala Lumpur being threatened with prosecution.

* We were involved in direct diplomatic talks pressuring one nationstate to release a detained "apostate" (whose condition we believe has improved though we continue to monitor the situation).

* Through our advocacy work at the UN and elsewhere we have lobbied the governments of Bangladesh, Egypt, Pakistan, Malaysia, Maldives, Saudi Arabia, Sudan and more to drop anti-atheist laws and policies.

* We launched a sixth annual edition of the IHEU Freedom of Thought Report which has grown increasingly influential at the UN and on the international discourse around 'freedom of religion or belief' and non-religious rights.

* We lobbied the European Parliament of the urgent need to show moral leadership and repeal all 'blasphemy' laws across the EU.

* We delivered a new training programme on human rights and the non-religious for the European External Action Service at the European Parliament in Brussels.
If you can give, please do! Here's the link again: