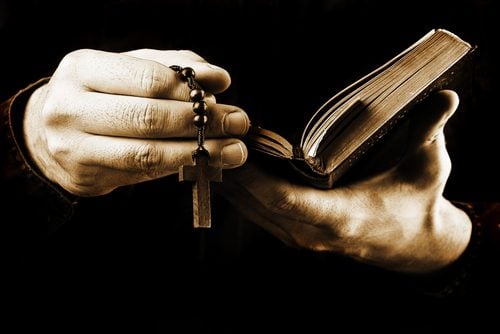 In August, I wrote about the Pennsylvania grand jury that detailed the Catholic church's conspiracy to cover up for pedophile clergy, going back decades and encompassing thousands of victims. There was a new development in October: yet another attempt to raise the statute of limitations failed in the state senate, but the next day, the Justice Department announced a federal investigation into all eight dioceses in Pennsylvania.
Maria Panaritis, a Philadelphia journalist, wrote about the changing mood in the state:
I started writing about this on and off in 2002 as a reporter, and what I noticed was initially a lot of anger toward us, and how dare you bash the church? And that has faded significantly in the last several years as I've done more reporting, as more grand jury work has come out, as I've done my own investigative work on this. It is overwhelmingly a different story. I hear from people who describe themselves as Catholics who are now disaffected, who are angry, who want to side with the victims, who say, enough is enough with the bishops.
The Pennsylvania grand jury report is sparking similar investigations all over the country. As Alex Norcia writes on Vice, the Catholic church's legal troubles are about to get a lot worse:
…in the wake of a grand jury report that concluded at least 300 priests had preyed on some 1,000 children across Pennsylvania since the 1940s, attorneys general in New York and New Jersey announced investigations into Catholic Church sexual abuse. Missouri, Nebraska, and Illinois have launched state-level probes as well — and more are likely to follow. New York went so far as to issue civil subpoenas in all eight of its dioceses — New Jersey has created a special criminal task force to look into seven — calling for the production of internal Church documents that relate to the handling of abuse cases.
John C. Manly, a lawyer who's represented sexual-abuse survivors for years, warns victims' advocates to brace themselves. He says that what's likely to emerge may be worse than anything we've seen so far:
If you think Pennsylvania was bad, wait until you get to New York and New Jersey. These Italian parishes, say, especially in the mid-to-late 20th century — and this is very similar to Latino immigrants today, where their home, and the center of community, is the parish. And, it turns out, many were a feeding ground for predators.

…It's criminality, really, on a scale that's unheard of. In California, the Church paid $1 billion to settle cases in the mid 2000s. A diocese went bankrupt. And it's not just the number of perpetrators. The real criminal conspiracy, and the real criminality, is the effort to cover it up, and conceal it as a matter of policy and practice. I think a lot of people still want to believe that something like what happened in Pennsylvania is an anomaly. It's not. It's the norm. Every diocese is the same — and the reason for that is the Church is a hierarchal organization, managed from the top-down.
As Manly says, what we're witnessing now is tearing the cover off decades of corruption. In many cities, police and prosecutors knew about molester priests and their enablers in the Catholic hierarchy, but chose not to pursue charges because they were afraid of the church's political muscle or because they sincerely believed that religious groups were doing God's will and should be above the law. But that older generation of sycophants is passing away, and the new one coming up isn't so devoted to the church.
That intervention is as necessary as it is welcome, because according to a USA Today article from late November,
the church still isn't capable of policing itself
:
This month, there was much anticipation the church would finally confront its widening scandal on its own terms. Then the Vatican instructed a meeting of U.S. bishops in Baltimore to delay any action until February.
This is an obvious stalling tactic – an attempt at diverting attention and outrage until this story has faded from the hot glare of the headlines, whereupon the Vatican will quietly sweep it under the rug yet again. At least, that's how it would have worked in the past. But with multiple state investigations and a federal investigation, we can be confident that they're not going to slip away so easily this time. This story will be producing headlines that are every bishop's nightmare for years to come.
Better still, the USA Today article also points out that the federal investigation may be expanding to scrutinize the entire American Catholic hierarchy:
After more than a half-dozen state dioceses acknowledged receiving grand jury subpoenas last month as part of the federal inquiry, the powerful U.S. Conference of Catholic Bishops confirmed that it, too, was served notice to preserve documents related to alleged rampant abuse. That action signals the government's review may include the country's nearly 200 dioceses – the church's entire U.S. operation.

Federal authorities declined to comment on the basis for their sudden intervention, but they are likely to consider legal actions – including organized crime enforcement measures – that are not bound by "statute of limitation" restrictions that have allowed hundreds of priests to avoid state prosecution for offenses that occurred decades ago.
With all the numbers and figures being bandied about in this story, it can be easy to overlook the real human suffering that lies behind each and every case. As an antidote to that tendency, here's a story from David Hickton, a federal prosecutor from Pennsylvania who was involved in the groundbreaking Altoona-Johnstown report. Although not a victim himself, he had personal experience with how openly the predators operated while growing up in Catholic school:
Among those victims: students at Hickton's own suburban Catholic grade school – St. Anne – where the Rev. Charles Chatt's alleged abuse spanned years. It was Chatt, according to the grand jury report, who did nothing when allegations surfaced that a basketball coach was sexually abusing young players, including Hickton's sixth-grade teammates.

…Hickton says the abuse became so recurrent during the season nearly 50 years ago that some of his young teammates would start trembling with fear as the last minutes ticked off the game clock.

"It was like Russian roulette: Everybody was looking at each other, worried that they might be next," he says.
No one who survived such horrific abuse should have to wait fifty years for justice. But even long overdue, it's welcome news that the church which aided and abetted these monsters will soon face a reckoning.