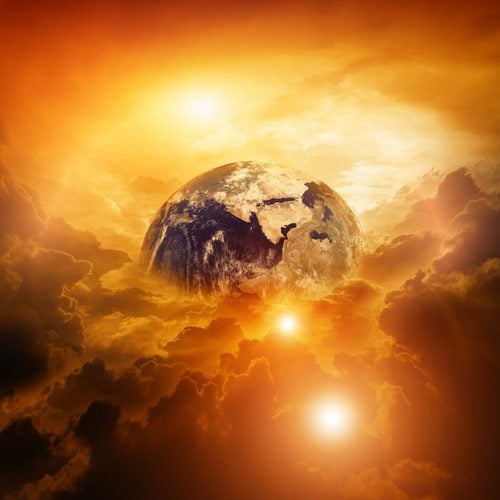 This past weekend, kids and teenagers across the U.S. and in 150 countries marched in a massive Climate Strike, demanding that world leaders take action on the crisis that overshadows their future. In city after city, they filled the streets:
One year ago @GretaThunberg left school on a Friday to protest inaction on climate. She was alone.

Today 4 million people around the world from all ages and all walks of life joined her on #ClimateStrike.

When we rise up together, another world is possible! ?????? pic.twitter.com/XkkhAYuRBJ

— Dr. Lucky Tran (@luckytran) September 20, 2019
YOUNG PEOPLE IN NEW YORK CITY ARE ON STRIKE. ??

??: @roguephotousa #ClimateStrike#StrikeWithUs pic.twitter.com/jLutzApEBF

— Future Coalition (@FutureCoalition) September 20, 2019
Over 4 million on #ClimateStrike today. In 163 countries. And counting…
If you belong to the small number of people who feel threatened by us, then we we have some very bad news for you:
This is just the beginning. Change is coming – like it or not. #FridaysForFuture pic.twitter.com/MHGRNx1tnH

— Greta Thunberg (@GretaThunberg) September 21, 2019
The 16-year-old climate activist Greta Thunberg addressed the U.N. and didn't mince words:
"This is all wrong. I shouldn't be up here. I should be back in school on the other side of the ocean. Yet you all come to us young people for hope. How dare you!

You have stolen my dreams and my childhood with your empty words. And yet I'm one of the lucky ones. People are suffering. People are dying. Entire ecosystems are collapsing. We are in the beginning of a mass extinction, and all you can talk about is money and fairy tales of eternal economic growth. How dare you!

…You are failing us. But the young people are starting to understand your betrayal. The eyes of all future generations are upon you. And if you choose to fail us, I say: We will never forgive you."
I have the same conflicted feelings about this as I do about gun-control marches: a fiery swell of pride to see the next generation so awake, so aware, so passionate about their future… but mingled with anger and despair that they're having to step up and shoulder this burden because the adults who were supposed to protect them have failed them so utterly.
And it's not a moment too soon. As this article from Bloomberg puts it, "America's great climate exodus" is already beginning. In the Florida Keys, in Louisiana's sinking islands, in flood-prone coastal regions of New York, New Jersey and Texas, some residents are accepting federal and state buyouts to move inland, while others would move if they could but are stranded in flood-damaged, storm-wrecked houses they can't sell. (This last point appears to be lost on right-wingers.)
Get used to the term "managed retreat", because you'll be hearing it a lot. For people in rich, industrialized countries, this is how climate change will be felt: not just the huge, spectacular storms like Hurricane Sandy, but the slow, grinding backdrop of sea-level rise. As streets are swamped and homes sink into the waves, people will be forced to abandon the coasts. A fortunate few will get government buyouts, but millions more will lose their homes with no recourse, and will have to go somewhere else to start their lives over – if they can afford it.
The article estimates that by the end of the century, 13 million Americans will be displaced. Banks will fail as homeowners walk away from their mortgages; investors will go broke as expensive oceanfront property becomes worthless; the fleeing poor will become homeless refugees in their own country. It will be like the 2008 housing crash in slow motion. Multiply that across all the world's countries, and you get some idea of what humanity is facing in the coming decades.
However, not everywhere will be impacted equally. The Brookings Institution has a very interesting article about the geography of climate damage:
According to the map, climate change could actually bestow net economic benefits by the years 2080-2099 (as measured by county income change as a share of 2012 income) on the Pacific Northwest, parts of the Interior West, the upper Midwest, and New England, even as it creates stark losses in the Southwest, Southeast, and Florida. As the smaller maps suggest, while increases in agricultural yields will significantly benefit the nation's Northwest, climate-caused deaths will hurt the Southwest as coastal storms and sea-level issues batter the Southeast, Florida, and the Gulf Coast.
Their surprising conclusion is that agricultural yields in the Northeast and the Northwest could rise because of warmer temperatures and shifts in rainfall, meaning that climate change could confer a small net economic benefit. Meanwhile, southern states will be hit by more life-threatening heat waves, and those on the coast will face sea-level rise and more powerful, more destructive hurricanes.
The upshot is that the states which have refused to take action on climate change are also the ones at the greatest risk of catastrophe:
9 of the 10 states contending with the highest losses of county income voted for President Trump in 2016, including, in order, Florida, Mississippi, Louisiana, Arkansas, and Alabama. Fifteen of the 16 highest-harm states were also red.
Unfortunately, we can't sit back and leave the red states to the drowned, polluted future they're fighting to create for themselves, no matter how poetically appropriate that might feel. Climate change is the ultimate commons problem; we have to stop it everywhere to stop it anywhere. As unfair as it is, if we manage to save the world, it seems likely that we'll have to drag the denialists kicking and screaming to their own rescue.