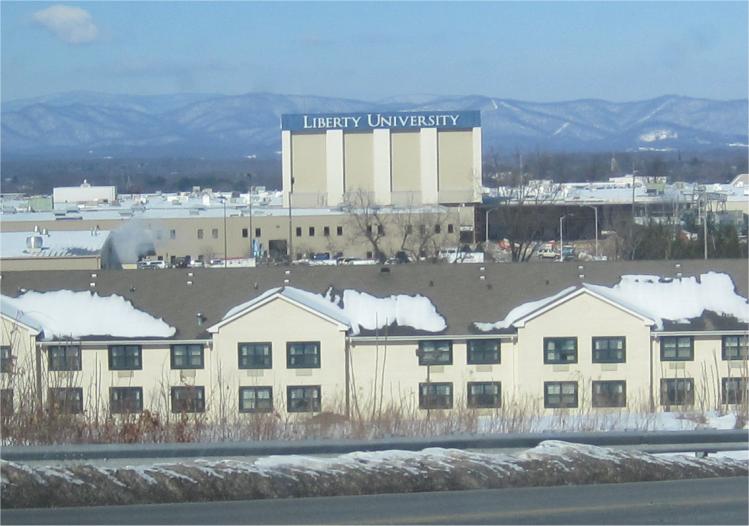 Earlier this month, I published an article titled "The Coming Red-State Coronavirus Catastrophe", about how the pandemic is threatening conservative regions of the U.S. that have downplayed the danger or resisted taking precautions.
My article included this paragraph:
On the conservative Christian side, Jerry Falwell Jr. is refusing to close Liberty University as students return from spring break. Falwell previously derided the pandemic as an "overreaction" and a liberal plot to damage Donald Trump. At least a dozen Liberty students are already sick with flulike symptoms.
The final sentence is a paraphrase of a statement from the New York Times article I linked to, which cites Dr. Thomas W. Eppes, the doctor who runs Liberty's student health service:
As of Friday, Dr. Eppes said, nearly a dozen Liberty students were sick with symptoms that suggested Covid-19, the disease caused by the virus. Three were referred to local hospital centers for testing. An additional eight were told to self-isolate.
On Monday night, I found out that a lawyer hired by Jerry Falwell Jr. is threatening the Times, and apparently other media outlets that cited or quoted the Times article, with a lawsuit. That includes me, as you can see from this e-mail nastygram sent to me care of Patheos:
Dear Mr. Lee,

This firm represents Liberty University.

On April 1, 2020, Patheos.com published an article titled "The Coming Red-State Coronavirus Catastrophe" (the "Article"), which republished, summarized, and extrapolated materially false and misleading statements regarding Liberty University published by the New York Times in a March 29, 2020 article titled "Liberty University Brings Back Its Students, and Coronavirus Fears, Too" (the "NYT Article"). Attached is a letter sent to the New York Times on April 8, 2020, notifying the New York Times that the NYT Article is factually inaccurate and libelous, demanding its immediate retraction, and threatening legal action.

The Article is similarly libelous and has inflicted substantial harm on Liberty University's reputation and caused it to expend substantial time and resources to address the false and misleading statements therein. Liberty University hereby demands that the Article be immediately retracted in its entirety and that Patheos.com and those who worked on the Article immediately implement a litigation hold.
Falwell's lawyer attached the threat letter they sent to the Times, which reads in part:
This account is factually inaccurate, libelous, and paints LU in a grossly false light. It also remains on the New York Times' website despite LU having informed the New York Times of the true facts, and the story's purported source publicly denying the core facts attributed solely to him and clarifying this with your bylined reporter.
(Read both letters in their entirety as originally sent to me.)
Needless to say, I'm not retracting my article. I don't bow to bullies or yield to petty attempts at intimidation. The demands and threats made by Falwell's lackey are a baseless attempt to stifle critical speech and commentary on a matter of public concern, and they won't succeed.
First, truth is an absolute defense against libel. If Dr. Eppes made the quoted statement to the Times' reporter, even if he later denied doing so, the article isn't libelous. The Times article has no correction to this effect, so I'm assuming that they stand by their reporting.
Second, libel requires proof of actual malice, as in an intentional effort to damage someone's reputation. If Eppes was mistaken about the number of Liberty students displaying possible COVID-19 symptoms, it's not libel to accurately repeat what he said. Even if the reporter misquoted or misunderstood him, that's still not libel, because of the "substantial truth" defense: a statement isn't automatically defamatory just because it contains a slight factual inaccuracy, as long as its overall thrust is correct.
In this case, the letter from Falwell's own lawyer acknowledges that the Times story is substantially true: subsequent to Falwell's refusal to close the campus, at least one Liberty student tested positive for the coronavirus, and others were told to self-isolate because some of them had recently been to New York City or had been in contact with those who had. This is relevant since we know people can be asymptomatic and can still transmit the virus to others. Therefore, Falwell's decision to keep the campus open potentially put students at risk, which was one of the points of the article. (We already know of more COVID-19 cases at Liberty and the associated Thomas Road Baptist Church.)
Third, and for the same reason: even if everything I said above was wrong and the Times story was libelous, libel requires a showing of actual malice. The idea that a third party (like me!) could commit libel by merely citing statements made in an article by a national news outlet is beyond absurd. For this to make any sense as a legal claim, they'd have to be alleging that the Times article was false, that I knew it was false at time of publication, and that I colluded with the Times as part of a dastardly plot to damage Liberty University's reputation.
Fourth, libel requires proof that the plaintiff suffered concrete harm from the supposedly false statement. Once again, Falwell has no case here. His ill-advised decision to keep Liberty's campus open, when a deadly pandemic was already spreading and against the advice of local elected officials and health authorities – that is the act that could harm his reputation, irrespective of his quibbling over the exact number of students who may have been sickened as a result, and he has no one to blame but himself for it. (If it doesn't go any further than it already has, the credit doesn't go to Falwell, but to Virginia Gov. Ralph Northam, who issued a statewide order closing all colleges and universities on March 30.)
In summary, Falwell's legal threat is empty bluster that has no grounding in law and could only succeed against someone who was ignorant of their rights. But that's just what I'd expect from him, since his own actions – reported in a followup story – paint a portrait of a raging, vindictive petty-tyrant-wannabe consumed by Nixonian paranoia and bitter resentment toward an ever-growing list of enemies:
And he has spared no effort to defend his actions since articles on Liberty's reopening ran in ProPublica and The New York Times. He pursued arrest warrants for misdemeanor trespassing against two journalists, Alec MacGillis, a reporter for ProPublica, and Julia Rendleman, a freelance photographer for The Times. He enlisted a New York law firm to threaten legal action against The Times and, he has said, other outlets as well.

He called a Times reporter shortly before midnight, leaving a voice mail message that said, "you're in some serious trouble." He accused the journalists of putting his students at risk because they traveled from New York City. (They did not.)
I should point out that I visited Liberty University's campus in 2010, in the company of someone who was enrolled there at the time, and took pictures of what I saw and wrote about it on my blog. (Sorry, Jerry – I think the statute of limitations is up.)
According to other sources like this one and this one, Falwell has a long and dishonorable tradition of censorship and thought control at his university. He treats it like a feudal estate where he has absolute power to dictate what others say, both students and professors.
I'm not surprised that someone so arrogant would believe this imaginary "right" extends to external criticism and reporting that he finds unfavorable. But if he's foolish enough to try putting this belief into practice, he's going to be badly disappointed.