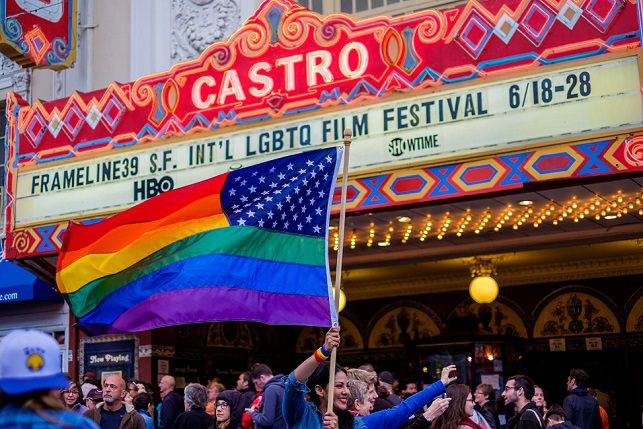 When Donald Trump got to put his stamp on the Supreme Court, I despaired. I felt certain that the courts would be an enemy of progressive ideals for years to come. But I'm happy to concede that I was overly pessimistic:
Before Monday, you could legally be fired for being gay, bisexual or transgender in 26 states. Now the court has ruled that gay and transgender people are protected by Title VII of the 1964 Civil Rights Act, which prohibits employment discrimination on the basis of sex. The decision has extra cultural force because it was written by Justice Neil Gorsuch, a Trump appointee, and joined by the conservative chief justice John Roberts.
The court's decision in Bostock v. Clayton County held that Title VII of the Civil Rights Act of 1964 outlaws discrimination on the basis of sexual orientation or gender identity. Until this ruling, 26 states allowed employers to fire or refuse to hire employees simply for being gay or transgender. Now, people are protected from that discrimination in all fifty states. It's no stretch to say that this is the biggest and most important expansion of LGBTQ rights since Obergefell v. Hodges.
The big surprise is that this wasn't a 5-4 squeaker, but a more robust 6-3 ruling. John Roberts, who dissented in Obergefell, joined the majority this time along with Trump appointee Neil Gorsuch. I don't think anyone saw that coming.
On purely textual grounds, the good guys had a strong argument. The Civil Rights Act forbids discrimination "because of sex", and firing an employee for being gay or transgender inherently discriminates on the basis of sex. It's punishing a person of one sex for traits or behaviors that you wouldn't have cared about in a person of a different sex. Gorsuch, who wrote the decision, took up that logic:
An individual's homosexuality or transgender status is not relevant to employment decisions. That's because it is impossible to discriminate against a person for being homosexual or transgender without discriminating against that individual based on sex. Consider, for example, an employer with two employees, both of whom are attracted to men. The two individuals are, to the employer's mind, materially identical in all respects, except that one is a man and the other a woman. If the employer fires the male employee for no reason other than the fact he is attracted to men, the employer discriminates against him for traits or actions it tolerates in his female colleague…

Or take an employer who fires a transgender person who was identified as a male at birth but who now identifies as a female. If the employer retains an otherwise identical employee who was identified as female at birth, the employer intentionally penalizes a person identified as male at birth for traits or actions that it tolerates in an employee identified as female at birth. Again, the individual employee's sex plays an unmistakable and impermissible role in the discharge decision. (source)
What makes this ruling especially delicious, according to a column by Todd Perdum, is that the word "sex" was originally added to the Civil Rights Act by a racist congressman. He believed that equal rights for women was such a radical notion that it would sink the entire bill:
On February 8, 1964, as the House of Representatives debated passage of the bill, Howard Smith, an ardent segregationist from Virginia, rose to propose changes to four pages of Title VII, the section of the bill barring hiring and firing "because of" race, creed, religion, or color. "After the word religion, insert sex," Smith drawled, urging his colleagues to rectify "this grave injustice … particularly in an election year."

The result was two hours of pandemonium on the House floor, because Smith's amendment was seen by the frantic pro-civil-rights forces as a poison pill that might put the whole bill at risk…

But soon a bipartisan coalition of five women took up the fight in support of Smith's proposal. Katharine St. George, a New York Republican, was biting. "I can think of nothing more logical than this amendment at this point," she told her male colleagues. "We outlast you. We outlive you, we nag you to death… We are entitled to this little crumb of equality. The addition of the little, terrifying word s-e-x will not hurt this legislation in any way."
Needless to say, the religious right is really, really mad. They're treating this as an unforgivable betrayal from a court that they thought they had in their pocket. If you want to gloat a little (and come on, you know you do), here are a few samples:
This Gorsuch decision is not originalist in any way; he acknowledges as much. It is simply a bad, outcome-driven legal decision. And it throws religious liberty, free speech, and employment law into complete turmoil.

— Ben Shapiro (@benshapiro) June 15, 2020
Thanks to two GOP appointees — Roberts and Gorsuch — churches and schools that discriminate against LGBTs stand at risk of losing tax-exempt status, per the Bob Jones ruling. Hard to overstate the magnitude of this loss for religious conservatives.

— Rod Dreher (@roddreher) June 15, 2020
The Supreme Court is not a court of law. It is a super-legislature run by nine politicians with lifetime tenure. Conservatives need to stop picking justices based on promises from nominees about how they'll analyze cases and start picking individuals who will vote correctly.

— Sean Davis (@seanmdav) June 15, 2020
Says the "conservative legal movement" is now over.

"If we've been fighting for originalism and textualism and this is the result of that? It turns out we haven't been fighting for very much … or the opposite of what we've been fighting for"

— Burgess Everett (@burgessev) June 16, 2020
Finally, it's worth noting that the author thinks this opinion should serve as a wake up call for conservatives–specifically that they should stop trying to rely on methodologies like textualism, and should instead make moral arguments that appeal to conservative values. pic.twitter.com/64n3W25Tu9

— Carissa Byrne Hessick (@CBHessick) June 16, 2020
And the Illinois "Family" Institute laments, "Neil-the-Usurper-Gorsuch just gave conservatives a huge shove toward the watery abyss."
The religious right is grappling with their defeat in one of two ways. Some, like the ones quoted here, are doubling down. They're saying outright that they need to drop their appeals to "originalism" or "textualism" or whatever other fig leaves they've been using, and just pick judges who promise in advance to rule "correctly" on culture-war issues. This is a blatant violation of ethics – judges aren't supposed to predecide a case before they've heard the arguments – but American conservatives have trampled every other rule and norm in their quest for power, so why stop here?
The other tack they've taken is more interesting. It concedes that they've failed to take over society through political activism, and they need to turn away and retreat from the world (i.e., the "Benedict option"). This argument is made in a column by Kevin DeYoung for the Gospel Coalition, but he puts his own disturbing twist on it.
DeYoung argues that evangelicals need to adopt Quiverfull ideology: start having as many kids as possible and raise them to be ideological clones of their parents. Then, when they've grown to maturity, this new generation of believers will outnumber their opponents and will be able to take over society without opposition.
Leave aside, for the moment, the obvious fact that human beings aren't clay to be molded. You can't program your children to believe the same things you believe, and the harder you try, the more you tend to push them away. That's why churches are shrinking and the young are deserting them in huge numbers.
But even if you're a Christian and you're on board with this plan, you might have more practical concerns. Like, what if you can't afford to have that many kids? What if you don't think you're physically capable of bearing them, or emotionally equipped to cope with the demands of a huge family?
DeYoung has an answer for this, which is basically: "Stop thinking about that and get with the baby-making."
Here's a culture war strategy conservative Christians should get behind: have more children and disciple them like crazy. Strongly consider having more children than you think you can handle. You don't have to be a fertility maximalist to recognize that children are always lauded as a blessing in the Bible.

…The future belongs to the fecund. It's time for happy warriors who seek to "renew the city" and "win the culture war" by investing in their local church, focusing on the family, and bringing the kingdom to bear on the world, one baby at a time.
I don't mind saying that it's cheering to see religious conservatives flail. If they had an actual argument for why it's good to discriminate against gay or transgender people, we'd have heard it by now. The only thing they have is their mystical dogma, unbacked by reason or morality – "It has to be this way because God said so" – and that just doesn't land with the force it used to.
Still, I wonder what convinced not one but two Republican justices to see things our way. It's possible that Roberts and Gorsuch are principled textualists who genuinely think this is the correct result according to the wording of the law, regardless of their personal opinions.
But I have a more cynical speculation. The Supreme Court isn't above politics, however much they might like to pretend otherwise. I wonder they ruled as they did because some justices anticipate a blue sweep in November, and they're concerned that if they hand down a string of hard-right partisan rulings, a Democratic Congress and President Joe Biden would pack the court with new liberal members. By giving progressives a few wins, they're making a case in advance for the court's impartiality.
That said, it's possible this ruling will depress Republican turnout and will contribute to that very outcome. White evangelicals are Trump's most critical voting bloc, and they're going to be demoralized by this decision. I'm sure they know, at some level, that he's an amoral narcissist and their support for him is pure hypocrisy. As long he was nominating a steady stream of conservative judges, they could convince themselves that throwing their principles to the wind was worth it. But if they can't get the favorable rulings they were hungry for, they'll have to face the hard truth that all they sacrificed was for nothing, and they may give up on politics entirely.
To be clear, I don't think the Supreme Court has suddenly turned liberal. I have no doubt that they'll issue disappointing and flat-out disastrous rulings in the years to come. But until the world comes around, we have to take our victories where we can get them. In spite of everything, America is a tiny bit more humane, a tiny bit more decent. In these dark and chaotic days, that's an achievement worth celebrating.
Image: Public domain, via Bhautik Joshi