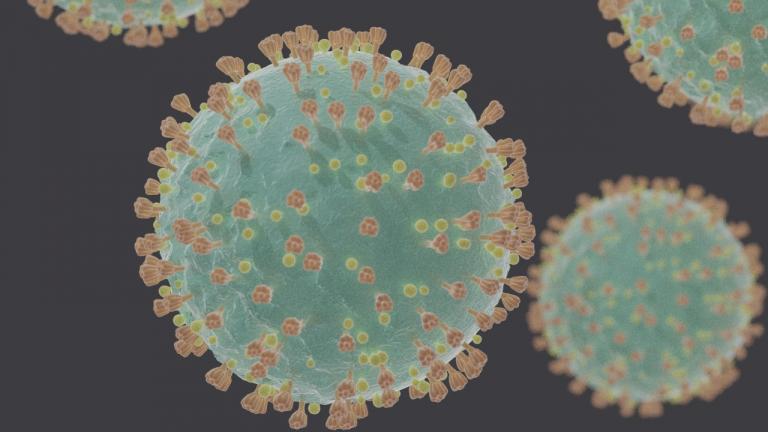 There's a vaccine on the horizon, but the pandemic isn't over yet. The first vaccinations of healthcare workers and the elderly are beginning, which is reason for rejoicing. But it will be months before we're able to get the shot out to the entire population, and in the meantime, there's a dark winter ahead.
Whether it's because the coronavirus, like the flu, spreads more efficiently in cold weather; whether the cold pushes people indoors where transmission is easier; or whether Americans are just tired of taking precautions and decided to resume traveling and gathering for the holidays – whatever the reason, cases are skyrocketing across the country, and we're blowing past one appalling milestone after another.
The U.S. has lost over 300,000 people, and the toll continues to climb. Over 3,000 people are dying almost every day. And once again, hospitals all over the country are bursting at the seams, and doctors and nurses are overwhelmed, exhausted and traumatized.
In one rural Kansas hospital, so many doctors tested positive that there was briefly no one in charge of patient care:
The staff shortages have forced people like Eric Lewallen, a Gulf War veteran and alfalfa farmer who moonlights as a radiology technician, to mount a last line of defense. To keep the hospital open, he had no choice but to start living in his RV in the parking lot because he needed to be on site as the only remaining healthy staffer to perform X-rays.

…The larger Hays Medical Center, which is just 25 miles away from La Crosse, was always willing to take patients that needed more advanced care in the past. But it turned away 103 transfers in November alone. In the 14 years prior, it had rejected transfers just twice, said Dr. Heather Harris, the medical director there.
And in Missouri:
"My fellow physicians in my state, they may spend six hours calling around to a hospital" that can accept a Covid-19 patient, said Dr. Christopher Sampson, president of the Missouri College of Emergency Physicians.

"We've had reports of people who have been transferred out of state. So… your family member goes to the emergency department, and the next thing you hear, unfortunately, is they're being transferred to another state hours and hours away because that's the only hospital that has room to care for them."
In the most ominous sign of all, hospitalization rates are dropping even as cases surge. This means hospitals are so full that they're in triage mode – that they have to turn away people who'd otherwise get a bed because they need to save space for the most urgent cases. In other words, we're already rationing care:
Many states have reported that their hospitals are running out of room and restricting which patients can be admitted. In South Dakota, a network of 37 hospitals reported sending more than 150 people home with oxygen tanks to keep beds open for even sicker patients. A hospital in Amarillo, Texas, reported that COVID-19 patients are waiting in the emergency room for beds to become available. Some patients in Laredo, Texas, were sent to hospitals in San Antonio — until that city stopped accepting transfers. Elsewhere in Texas, patients were sent to Oklahoma, but hospitals there have also tightened their admission criteria.
It didn't have to be this way. Much of this suffering and death was avoidable – if only we'd had a minimally decent and competent human being for president, rather than a malignant and ignorant narcissist who sought to hush up bad news so it didn't imperil his reelection bid. As early as April, the Post Office planned to send face masks to every address in the country – but the Trump administration blocked it as part of their strategy of lies, concealment and denial.
And across the country, Republican governors followed Trump's lead in covering up the problem, lying to their constituents that all was well and there was no need for lockdowns or other precautions. In Florida, Ron DeSantis muzzled health spokespeople and withheld evidence about the virus' spread. In Iowa, Kim Reynolds downplayed the pandemic and denied the effectiveness of masks even as hospitals reached their breaking point. In South Dakota, Kristi Noem cheered "freedom" from mask mandates while her state was ravaged by one of the worst outbreaks in the country.
In another sign of their symbiotic relationship with the GOP, prominent figures of the Christian right are amplifying the head-in-sand attitude. Evangelical megachurch pastor John MacArthur asserted, "There is no pandemic," to cheers and applause from his congregation. Sometimes politically motivated and religiously motivated denial bleed into each other, like the Republican mayor who claims he's waiting for the Holy Spirit to tell him whether masks work.
With red states and red counties neck-deep in denial, it's no surprise that the virus is hitting rural regions especially hard. It's killing their residents at almost 3.5 times the rate of urban residents, according to the CDC. In many of these places, conservatives simply refuse to believe the virus is real, even when they're hospitalized and dying from it.
Beyond the direct effects of sickness and death, COVID-19 is taking a secondary economic toll. As businesses are hammered by the out-of-control pandemic, millions of people have been thrown out of work. It's an indictment of our society that, according to one report, shoplifting of basic staples like bread and baby formula has spiked.
Again, it's conservative politicians who are to blame. Economic shutdowns are needed to save lives, but we could have done more to support people who are unemployed through no fault of their own. Instead, the stimulus programs we got were grudging, inadequate, and short-term, and many of them are about to expire. In the next few months, millions of households are facing eviction. This completely needless economic damage and misery, on top of the completely needless human suffering and death, will stand as an enduring monument to the catastrophic failure that results from giving power to anti-science oligarchs.
Image credit: Felipe Esquivel Reed via Wikimedia Commons; released under CC BY-SA 4.0 license