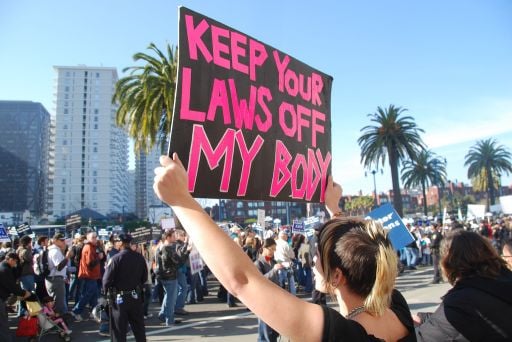 [This is a guest post from my wife Elizabeth. Check out her podcast at Feminist Coffee Hour too! —Adam]
News that the Supreme Court will hear a case on Mississippi's 15 week abortion ban has rocked pro-choice circles and has left many feeling a sense of despair. Could this be another step towards the end of legal abortion in the United States?
Sidebar: This wouldn't be the end of Roe v. Wade. That happened in 1992 when the Supreme Court decided Planned Parenthood v. Casey and ruled that states may restrict abortion in any way they see fit as long as it doesn't place "an undue burden" on the person seeking the procedure. The court upheld a ban on specific methods of abortion in Gonzales v. Carhart but did come down against TRAP (Targeted Regulation of Abortion Providers) laws in Whole Woman's Health v. Hellerstedt. The Hellerstedt decision clarified that states could not continue to chip away at legal abortion with increasingly onerous regulations like how wide the hallways must be or whether doctors must have "admitting privileges" to perform one of the safest and most common procedures in the world.
We should march, we should call, we should yell, we should organize. And we should donate. Not just to Planned Parenthood or your local reproductive health clinic, although that would be nice. We should give to abortion funds. Abortion funds exist to give direct assistance to anyone seeking an abortion who cannot pay for one. They help with incidental costs as well, including transportation, lodging, child care and other costs for anyone who must travel for an abortion. According to the Guttmacher Institute, 89% of counties in the United States do not have an abortion provider, and so travel, sometimes far distances, is often necessary. When combined with the fact that many people choose abortion because they cannot afford to raise a child – the cost of the procedure or travel can seem out of reach. Additionally, many people seeking abortion are already parents and have children they may need to leave for hours or days.
There's another reason for these costs – the Hyde Amendment, which restricts Medicaid from being used to pay for abortion care. The next time you call your member of Congress (which is a habit now, correct?), tell them to repeal the Hyde Amendment.
These overlapping obstacles to abortion care are well documented in the book Obstacle Course by Carole Joffe and David S. Cohen. You can listen to my interview with them here. And when you start to understand these obstacles and injustices, you might notice people talking about "reproductive justice" as opposed to simply saying that they are "pro-choice." What's the difference?
Sister Song, a women of color led organization to "build an effective network of individuals and organizations to improve institutional policies and systems that impact the reproductive lives of marginalized communities," says:
Reproductive Justice is the human right to maintain personal bodily autonomy, have children, not have children, and parent the children we have in safe and sustainable communities.
When you live 100 miles from the nearest abortion clinic and you make $7.25 an hour, your "choice" isn't what's stopping you from getting an abortion.
Every year the National Network of Abortion Funds creates a fundraiser for abortion funds across the United States. Often, large parties are held at bowling alleys or billiards halls. This isn't possible right now due to COVID, but you can still support the cause. Please donate to my fundraiser here:
Find out where your nearest abortion fund is and get involved. Maybe next year, we will be bowling together for reproductive justice.
Image credit: Steve Rhodes, released under CC BY-ND 2.0 license