My friend's experience of setting a lofty goal and relying on others to help achieve that goal appealed to my fascination of group goal achievement. Such achievement is only possible with the unified focus and determination of the entire group. This is how Zion is possible—unified focus and determination of the entire group.
Barbie Dodson's Journey to Calgary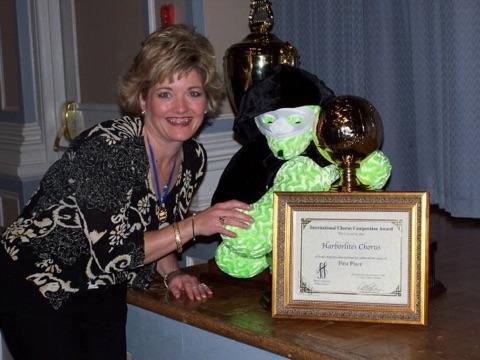 I felt the familiar sense of relief as the plane wheels hit the tarmac. The level of excitement and anticipation was starting to build, as I waited to exit the plane and catch a taxi to the hotel. I had arrived in Calgary! It was October, 2007, and six months before, I had only dreamed of being able to compete in a Sweet Adeline Championship Chorus.
I originally joined the Harborlites Chorus, based out of Huntington Beach, California, in 1993. When I moved to Hawaii in 1997, I inevitably had to leave the chorus.
Identifying the Goal
Harborlites is a women's competition show chorus singing a cappella, 4-part harmony in the barbershop style. While I was away in Hawaii, Harborlites had come in 1st place at the International Competition in 2004. They were working towards a repeat performance at the International Competition in Calgary, Alberta, Canada.
I moved back to Southern California in 2007. And at the urging of some old friends from the chorus, decided to re-audition for them in April of that year.
The chorus had completely changed in many ways from when I left in 1997. They went from having 60-75 women to 130 at rehearsals. The level of dedication the members exhibited was remarkable, and therefore, the rehearsals were much more serious. They spent 45 minutes, at the beginning of each rehearsal, to warm up their voices and to train their ears to try and perfect the craft of barbershop singing.
To my surprise, they no longer took 15-20 min breaks in the middle of rehearsal. I recall noticing that many of the women in the chorus were well over twice my age and wondered how they could possess the stamina that standing on the risers and singing for 3 hours requires. At that time in my life, I was in great physical shape but found that I was ready to drop at the end of the rehearsal.
After learning two songs and some choreography, I auditioned and was accepted as a member of the chorus again. I soon realized that I had less than six months to learn six competition songs along with the choreography that accompanied four of those songs.
Focusing the Group on the Goal
This was going to take some work, but I was excited to be singing again with my old and new friends. Their excitement, discipline, and dedication were truly admirable. My focus began to intensify, and in a few short weeks, I was just as motivated to do well in Calgary as everyone else.
The preparation that a competition chorus embarks upon is challenging, time-consuming, and rigorous. We met for four hours on Monday nights. One hour before rehearsal was for extra help with the choreography. Harborlites had a choreography team that would teach and critique our movements. I knew I was behind the curve on this journey and I decided to make every effort to be at all of the extra choreography rehearsals, which were many.
Two months before the competition, there were choreography rehearsals at several members' homes on the weekends. In addition to the regular rehearsal schedule, there were three or four weekend rehearsal retreats. A coach would be flown in from another state, to come and assist us in improving our unit sound, musicality, and overall presentation. The weekend would involve three hours on Friday night and an all-day rehearsal on Saturday.
It was a grueling process, to say the least, but we kept our eyes on the prize. The prize was to be able to get on that stage in Calgary and give our best individually so that the entire chorus would excel as a group.
The other prize would be to bring home a gold medal. The coaches and director spent time encouraging us to stay focused and dedicated to the cause. They also reminded us that we are not individuals going on that stage; we are a cohesive group of dedicated singers who are striving to reach the same goal.
Was it always easy to remain focused and dedicated? No, there were many rehearsals where the director would be shouting at us to gut it out and to not forget what we had just learned from the coaches, only a few days before. There was a group of "Pep Team" members that designed T-shirts that said, "Are you ready, Harborlites?"
We were ready, but we didn't know it yet. The director would talk about how our focus and discipline would increase once we arrived in Calgary. I had not been involved in this level of competition before, so I was curious as to what they were referring to.
Calgary
It was Monday afternoon when we landed in Calgary. The semi-final competition was set for Thursday and if we made the cut of top 10 choruses, we would be singing in the chorus finals on Saturday of that week. With each rehearsal, the excitement would build, our mental visualization became clearer, and the bonding that developed among the members and director was incredible.
Just thinking back to that time, I remember the directors and coaches shouting "Move with the music," "Bend your knees," "Tell the story of the song," "Sing to the back of the arena," "More resonance!" and on and on. By Wednesday night, we were ready for the next day.
The semi-finals had begun. And after having a chorus breakfast to receive last minute words of encouragement, we were dressed and ready. The buses arrived and we were officially "in the pattern."
We filed onto the dimly lit stage and after the pitch pipe blew our first pitch and we were announced, the stage lights went up and we performed our two songs for the semi-final set. We sang our hearts out!
One part of our goal had been met. We left the stage knowing that we did our best and that was the most important thing to us. We were confident that we would make the top ten and move on to the chorus finals on Saturday.
It was Saturday and we had made the cut. The chorus members filed onto the buses once again. This was it! We would be performing our entertainment package for the judges which included 4 songs with a 15-minute time limit.
The audience was chanting "HAR-BOR-LITES!" as we filed onto the risers, making it a challenge to focus. We had been coached for months on staying with the plan to not let anything, not even an itchy nose, causing us to get off our game. We were in this to succeed and we definitely did not want our individual inaction to cause the chorus, as a whole, to suffer.
We had been relentless in our preparation. And after many prayers had been said, we felt confident that we would perform to the best of our ability and the judges would score us accordingly.
After the end of our 4th song, we received a standing ovation from the audience. It is hard to describe the feeling of exhilaration and gratitude we all felt. We had left everything on that stage. We gave it our all and then some. There were times during the preceding months that we wondered if all the hard work was worth it. At that moment, we wouldn't have traded that experience for anything in the world.
At the end of the finals competition, the judges tabulated their scoresheets and many announcements were made. By this time, the arena held about 8,000 people who were extremely excited to hear the impending first place announcement.
Victory!
The panel secretary stood at the podium and read off the top five scores along with the corresponding chorus names. "And the first place medal goes to the new 2008 Championship Chorus, the Harborlites Chorus!"
We did it! We won the first place gold medal! The culmination of months of hard work and preparation paid off in that moment.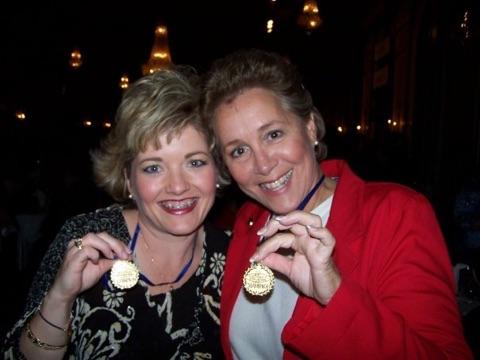 It wasn't until many weeks later, that I pondered on some of the lessons I learned and the blessings I received from having this experience. I had developed a new "normal" when it came to working hard towards my goals.
I also knew that performing for people and causing them to "feel" something was a true gift. This journey not only elevated my vocal skills, but it increased my self-esteem many times over. I gained the knowledge it requires to work as a team and was able to see the importance of truly "being there" for others.
In the end, we were headed back to the airport. All of us were wearing our gold medals around our necks. When the customs officers noticed us, they were extremely excited to hear about how we received our medals. We felt like Olympians for just a moment.