One of my heroes has passed away. While throngs celebrate her life today, I'm 3,000 miles away, at my kitchen table, reliving waves of memories.
I first met Carol Joy Noble Tobler in the hospital the day I was born. My dad was out of state and Carol was there supporting her little sister and new niece. Mom said Aunt Carol was with her during most, if not all, of her 13-hour hospital labor.
Finally, Carol couldn't stand it any longer and went out and called her own doctor, Dr. Broadbent, and convinced him to come and help my mom. He was there in about 5 minutes. He put his hands on mom's upper abdomen, right on my head (I was breach), and pushed. And I was born, just that fast! Aunt Carol must have had a tremendous influence to make that happen!
So I've known Carol my whole life! She's been a stable star in my world! Through the 47 intervening years, I've always felt her love and support.
Aunt Carol exuded joy. Her hearty laugh rings in my ears now. Thinking of her witty, engaging conversations intertwined with that laughter bring a flood of memories to mind and heart.
"I've learned that people will forget what you said, people will forget what you did, but people will never forget how you made them feel." ― Maya Angelou
Aunt Carol not only saw people, which is quite unusual, but she also loved them. All of them. She could talk to a 4-year-old girl as easily as an ancient one. And we all knew we mattered to her.
I will never forget how she made me feel.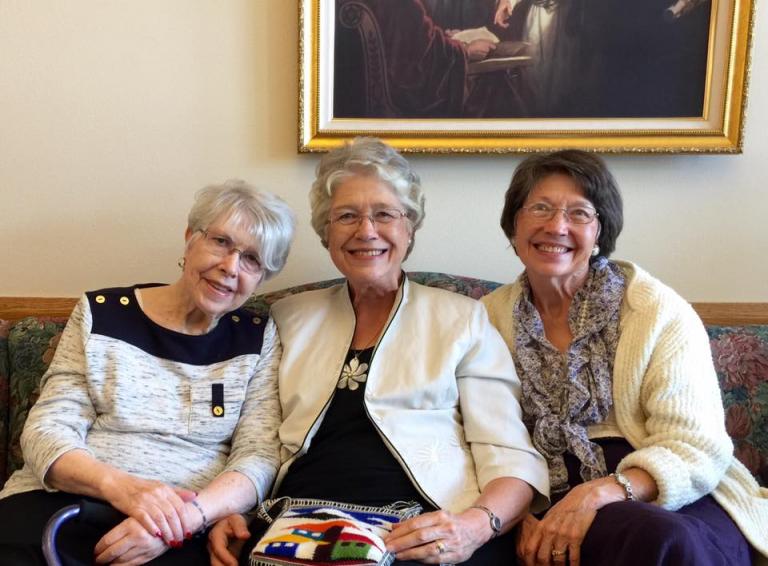 Defining Moments with Aunt Carol
Aunt Carol appeared at critical moments in my life. During one such moment, she'd driven from Utah to Texas to visit our family. At the time, I felt trapped by fate due to tragic circumstance. I only knew one other person in a similar situation and her life was in shambles. It seems crazy to say now, but I truly believed I'd been fated to live similarly to her. And I felt despondent about that.
Sensing my conflict, Aunt Carol came to me. We chatted about a lot of trivial things. Then she looked into my soul and told me that we all have a choice regardless of the circumstances we're in.
I felt the truth of her words but still didn't quite believe they applied to me—until she held my hand, said she had also experienced tragic circumstances and she chose joy and vitality. I felt dumbfounded. I knew every one experienced tough things in life, but I never imagined anyone else really knew what I felt. I'd felt so polarized, so different from anyone else I knew.
But there sat one of my heroes, an angel, saying she not only believed in me, but she knew how I felt because she had felt it, too. AND she chose joy. Because she acted instead of staying stuck in a version of victim mode, that made all of the difference in her life. She testified to me of the Lord's healing grace and asked me to trust in Him.
The two examples before me starkly contrasted each other—misery versus peace.
She fanned my tiny spark of hope into a raging fire. I believed her because I saw her life and felt her goodness. Because she had chosen, I believed I could, too. I chose joy.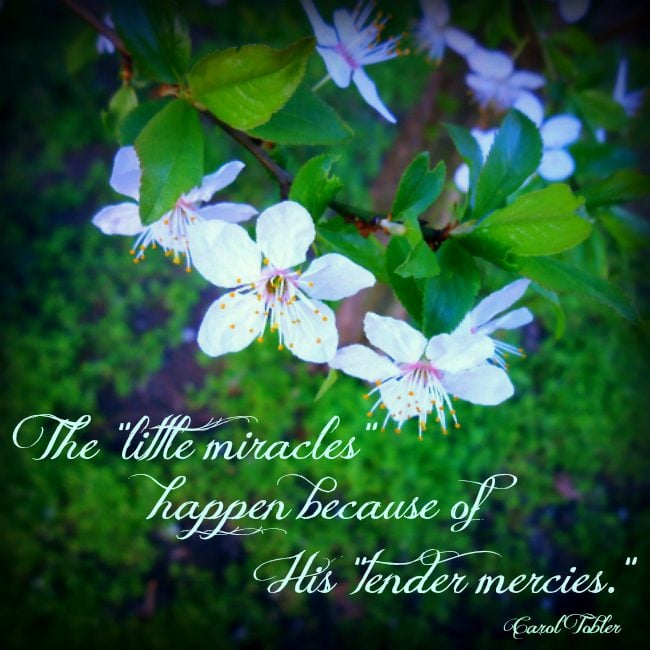 Another time, during college, she called and invited me to lunch. She said she felt prompted to check in on me and see how things were going.
I faced a substantial decision. I'd wanted to serve a mission my whole life, but had met a great guy who wanted to get married.
Without encouraging me one way or the other, Aunt Carol just listened while pushing her yummy food my direction. After talking for a few minutes about it, I stopped talking and just looked at her. She smiled at me and said, "I think you know." I did. I served a mission.
Because She First Loved Us
Because of Aunt Carol, I came to understand John's statement about Jesus Christ.
I love her deeply, unabashedly, and vulnerably, because I've felt such trust in her unconditional love for me. She's been available any time I've ever needed her, even my usual mode of just popping in when I had a minute. She always made time and that made all the difference to me.
Even as more tragic circumstances beset her beautiful mind and body, and despite the pain, frustration, and confusion, she chose joy. After a lifetime of choosing joy, it wasn't just a habit, it was the fiber of her soul.
And now as I think of this beautiful, faithful, graceful, joyous woman who has made my life so much sweeter reuniting with her parents, brothers, others who loved her, and especially the Savior, I choose joy. I can't imagine this world without her, but my faith whispers that she's not far away and that Heavenly Father will send her to visit when I need her, just as He always has.
Carol Joy Noble Tobler's Obituary
Our beloved wife, mother, grandmother, great grandmother and friend, Carol Joy Noble Tobler, 80, passed away surrounded by family at her home in Lindon on Tuesday, June 19, 2018 after a long battle with Parkinson's Disease and Lewy Body Dementia.

Our "Christmas Carol" was born on December 25, 1937 in Burley, Idaho to Francis Newton Noble and Leona Evelyn Petersen, the third of eight children. Her family moved frequently in Idaho, Utah, California and Oregon. She attended schools in all of these states, but, most importantly, spent a happy junior year in high school in Pendleton, Oregon where lifelong friends helped awaken her self-esteem and faith. A year later, in 1955 she graduated from BY High School in Provo where new friends took her in and made her feel welcome. They remained cherished friends for the rest of her life.

In 1958, she took a job as a dental assistant in Nampa, Idaho to help the family economy. In the summer of 1959 she met Douglas F. Tobler, just home from a mission, in the dentist's chair. He would later, on March 18, 1960, become her husband in the Salt Lake Temple. For the next years she put her education on hold while Douglas got his. Years later, in 1989, she graduated from BYU with a B.A. degree, along with her two sons, Gregg, from the J. Reuben Clark Law School, and Brian with his B.A. In the intervening years she gained an increasing love for education and confidence in her ability to learn.

Between 1962 and 1965 her growing family lived in Lawrence, Kansas and Omaha, Nebraska where she continued giving Church service. Following the family's move back to Utah County in 1967, two girls, Leslie and Allyson, were added to the family. She devoted herself to her family, becoming a cherished partner to her husband and a consummate homemaker-teacher. Many of her recipes have become family treasures. Later, she would augment the family income supporting missionary sons, working with friends in their own business and at the Deseret Bank.

From her earliest years, she loved to sing with her family. Music became a part of who she was. She enjoyed and was refined by several years singing with the Ralph Woodward Chorale; this became a blessing to the whole family.

She also loved going with her family on the BYU Study Abroad Programs to Salzburg and Vienna, Austria in 1969, 1974, 1984 and 1989 where she enjoyed taking German, history and humanities classes with the students and participating fully in the programs. She also relished new friends and life experiences gained there. Austria became a kind of second home to her.

A highlight of her life was her call, along with her husband, to preside over the Poland Warsaw Mission from 1998 to 2001 where she came to love and serve over 300 missionaries. She loved to listen to them and cook for them, and then give wise counsel to her husband. They knew she loved them.

Carol loved Heavenly Father, His Son Jesus Christ and all of His other children. She had the gift of faith and loved the Gospel in all of its richness and majesty as well as the prophets and apostles, past and present. She made friends easily and cherished them. From before her marriage on, she fulfilled faithfully callings in all of the organizations of the Church, including Stake Relief Society President, Temple Ordinance worker and Visiting Teacher. She was a true role model of a believer for her posterity.

She is survived by her husband, Douglas, children, Gregg (Sharon), Brian (Liesa), Leslie (Sid) and Allyson (Shane), sixteen grandchildren, ten great grandchildren, sisters, Jeanne Richardson, Darla Bushman (Darrell) and Judy Bateman (Sam), and brothers, Jay (Nancy) and Randy (Cinzia) Noble. Her parents, brothers, Bert and Kim and a grandson, Joshua preceded her in death.

The Family would like to thank all who helped make Carol's life sweet and meaningful, especially the nurses and aides from IHC Hospice and Marinn Smith during her last years.

Funeral Services will be held Saturday, June 23rd, at 11:00 am, at the Lindon Utah West Stake Center, 250 West 600 South, Lindon, Utah, where Viewings will be held Friday, June 22nd from 6:00 to 8:00 pm and prior to services on Saturday from 9:30 to 10:30 am. Interment in Orem City Cemetery.

In lieu of flowers, friends may contribute to the LDS Humanitarian Fund or to a cause of their choice.