The First Vision!  Excitedly I read through my seminary manual to prepare a seminary lesson on that glorious event when a 14-year-old boy approached God in prayer to know which church to join.  Joseph Smith felt the necessity of God in his life.  He searched for answers in the Bible.
He found possible direction in James 1:5.
If any of you lack wisdom, let him ask of God, that giveth to all men liberally, and upbraideth not; and it shall be given him.
Was it possible? Would God really answer him? Is it really possible?  Will He really answer me?
Joseph's Sacred Grove
Joseph stated that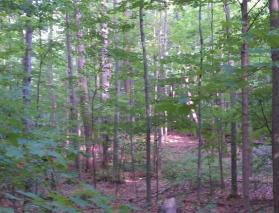 Never did any passage of scripture come with more power to the heart of man than this did at this time to mine. It seemed to enter with great force into every feeling of my heart. I reflected on it again and again, knowing that if any person needed wisdom from God, I did; for how to act I did not know, and unless I could get more wisdom than I then had, I would never know; for the teachers of religion of the different sects understood the same passages of scripture so differently as to destroy all confidence in settling the question by an appeal to the Bible.
At length I came to the conclusion that I must either remain in darkness and confusion, or else I must do as James directs, that is, ask of God. I at length came to the determination to "ask of God," concluding that if he gave wisdom to them that lacked wisdom, and would give liberally, and not upbraid, I might venture.
For his first vocal prayer, Joseph went to the woods.  He kneeled down and began pouring out the confusions and frustrations of his heart.  "What am I to do?"
An unseen power and thick darkness bound him physically.  Joseph expected to die from the forces and pressures exerted against him. Just when he had given up hope came a pillar of light.
 I saw a pillar of light exactly over my head, above the brightness of the sun, which descended gradually until it fell upon me.

It no sooner appeared than I found myself delivered from the enemy which held me bound. When the light rested upon me I saw two Personages, whose brightness and glory defy all description, standing above me in the air. One of them spake unto me, calling me by name and said, pointing to the other—This is My Beloved Son. Hear Him!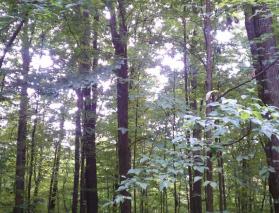 The grove was sacred.  The moment was sacred.  The message was sacred. The boy was sacred. The Father and Son were sacred.
The Savior promised
It shall come to pass that every soul who forsaketh his sins and cometh unto me, and calleth on my name, and obeyeth my voice, and keepeth my commandments, shall see my face and know that I am.
Nephi broke through that veil!  The Brother of Jared pierced it!  Young and old have seen His face and know that He is.
We have the same opportunity.
The Lord's People Receive Revelation
One of my all-time favorite general conference talks is by Elder Bruce R. McConkie called "The Lord's People Receive Revelation."  He described our opportunity in such clarity and eloquence, I had to share it here.
When I was a mission president in Australia, I once said to those of my missionaries in Tasmania: "Tomorrow we shall climb Mt. Wellington and hold our missionary meeting on the top. We shall there seek to commune with the Lord and partake of his Spirit."

We made the climb, and while on top of the peak we visited a television broadcasting station. A bright young man explained to us in words I had never heard, and using principles I could not and do not understand, how the sounds and scenes of television were broadcast into the valley below.

That night, back in the city of Hobart, my two young sons and I sat before a television set that was tuned to the proper wave band, and we saw and heard and experienced what had been described to us in words.

Now I think this illustrates perfectly what is involved in the receipt of revelation and the seeing of visions. We can read about visions and revelations in the records of the past, we can study the inspired writings of people who had the fullness of the gospel in their day, but we cannot comprehend what is involved until we see and hear and experience for ourselves.

This Tabernacle is now full of words and music. Handel's Messiah is being sung, and the world's statesmen are propagandizing their people. But we do not hear any of it.

This Tabernacle is full of scenes from Vietnam and Washington. There is even a picture of men walking on the surface of the moon. But we are not seeing these things. The minute, however, in which we tune a radio to the proper wave band and tune a television receiving set on the proper channel, we begin to hear and see and experience what otherwise remains completely unknown to us.

And so it is with the revelations and visions of eternity. They are around us all the time. This Tabernacle is full of the same things which are recorded in the scriptures and much more. The vision of the degrees of glory is being broadcast before us, but we do not hear or see or experience because we have not tuned our souls to the wave band on which the Holy Ghost is broadcasting.

Joseph Smith said: "The Holy Ghost is a revelator." And, "No man can receive the Holy Ghost without receiving revelations." (Teachings of the Prophet Joseph Smith [Deseret Book Co., 1968], p. 328.)

Moroni said: "… by the power of the Holy Ghost ye may know the truth of all things." (Moro. 10:5.)

The Comforter knoweth all things; he is commissioned to bear witness of the Father and the Son, to reveal, to teach, and to testify—and he is broadcasting all the truths of salvation, and all the knowledge and wisdom of God, out into all immensity all of the time.

How this is done we do not know. We cannot comprehend God or the laws by which he governs the universe. But that it does happen we know because here in the valley below, when we attune our souls to the Infinite, we hear and see and experience the things of God.

The laws governing radio and television have existed from the time of Adam to the present moment, but only in modern times have men heard and seen and experienced these miraculous things. And the laws have always existed whereby men can see visions, hear the voice of God, and partake of the things of the Spirit. But millions of people everywhere live and die without tasting the good word of God, because they do not obey the laws which implant the revelations of the Lord in their souls.

And may I say that the only way to gain true religion is to receive it from the Lord. True religion is revealed religion; it is not a creation of man's devising; it comes from God. …

God stands revealed or he remains forever unknown, and the things of God are and can be known only by and through the Spirit of God. …

It is the right of members of the Church to receive revelation. Joseph Smith said: "… God hath not revealed anything to Joseph, but what he will make known unto the Twelve, and even the least Saint may know all things as fast as he is able to bear them. …" (Teachings, p. 149.)

Also: "It is the privilege of every Elder to speak of the things of God; and could we all come together with one heart and one mind in perfect faith the veil might as well be rent today as next week, or any other time. …" (Teachings, p. 9.)

Religion must be felt and experienced.
Your Sacred Grove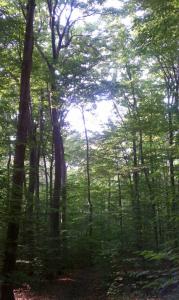 If any you lack wisdom, ask of God.  And it shall be given.
The place where you are right now can be your sacred grove.  And the places you are tomorrow and the day after that are all prime locations.
I am in your midst and ye cannot see me; But the day soon cometh that ye shall see me, and know that I am.
He lives! He speaks! He loves you!  He invites us to join Him in our own Sacred Grove.