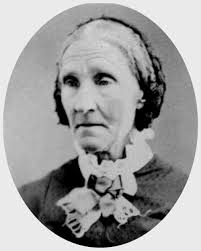 My third great-grandmother Eliza Chapman Gadd crossed the plains in the Willie Handcart Company without joining herself to The Church of Jesus Christ of Latter-day Saints. However, a week after a rescue party brought the Willie Company into the Salt Lake Valley, Eliza requested baptism.
As I read her patriarchal blessing, having peered through the tiny historical window into her life, I felt her strength and greatness even more.
After arriving in Salt Lake City, Brigham Young assigned her family to settle in Nephi, Utah. She did and remained in Nephi for the rest of her life. She never remarried, remaining a widow, yet providing for her family. She served as a renowned midwife and healer, even acknowledged by Ripley's Believe It Or Not for her astonishing number of deliveries for nearly no remuneration. She dried and bleached straw to make hats, a skill she brought from England.
She found joy in her family and her faith. I love that the Lord promised she could live as long as she chose. She lived a long, good life. I'm grateful for her example, character, and compassion.
A hundred years later, I see the fulfillment of many of these promises made to my grandmother Eliza.
Eliza Chapman Gadd's Patriarchal Blessing
Patriarchal Blessing Of Eliza Chapman Gadd
Given in Nephi Utah, June 3, 1860
(This blessing is typed with the same spelling as was used in the original blessing.)
A blessing by William Cazier, Patriarch, upon the head of Eliza Gad, daughter of William Chapman and Mary Pentlow. Born March 13th, 1826. Croyden, Cambridgeshire, England.

Sister Eliza, I place my hands on your head in the name of Jesus Christ and by the authority of the Priesthood. I bless you with a patriarchal blessing and you are truly blessed my sister inasmuch as you have suffered for the sake of the gospel and have gathered with the saints through their exertions. Exertions to do good and esteeming the difficulties are nothing to compare with the gospel that you have received.

And you are blessed my sister with the knowledge of truth and the principles of peace and will continue to be blessed with the blessings of thy God. The Lord blesses thee, His angels bless thee, And the saints bless thee, and the time will come when you shall realize the gift of prophecy and the gift of healing by the administration of your hands and your family. For you are a literal heir to the blessings of Abraham, Isaac, and Jacob forever. A heir to the priesthood in connection with your husband and this to the new and everlasting covenant.

The way of peace shall not be hid from you, for you shall be comforted with blessings and God will attend you, both in your out goings and in your in comings. For God remembers you in adverse circumstances thus blessings await for you and you shall enjoy more blessings in your life that will compensate you for all your trials and losses you have suffered.

And your last days shall be your best, for you shall live as long as you desire, be blessed in your baskets and in your store. The time is at hand when you shall have plenty.

Thy lineage is that of Joseph and with the same…he had, you are… by. Not in many years you will realize these blessings with great prosperity, shall attain to you…. Thy posterity shall be a blessing both to yourself and the saints and thy seed shall be innumerous upon the earth even without numbers.

Shall see Zion built up and her stated sanctified by the Holy Priesthood. (The next section of the blessing is faded and unable to be read.) —blessings keep and comfort your heart, for God will not forget you…. You shall attain to Celestial honors. All these blessings are for you in the name of Jesus Christ, Amen.