Traversing this mortal journey isn't easy. I admire the real, honest experiences people share that testify that the Lord provides guideposts to help us along our journey and ways to find and follow those guideposts. For this friend, Sha-Lei Kamauu, the guideposts that helped her during this particular experience were the words of living prophets. She searched for an answer to her concern, felt the truth of the prophets' words, and followed the guidance, finding peace and joy on her journey back to our Heavenly Father.
Sha-Lei's Journey
"Isn't it a blessing to have prophets, seers, and revelators on earth in these days in which we live, who seek to know the will of the Lord and follow it? It is comforting to know that we are not alone in the world, despite the challenges we face in life. Having prophets is a sign of God's love for His children." ~Elder Ulisses Soares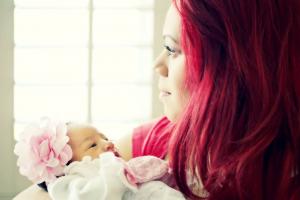 I'm 24. At 19 years old, I found out I'd give birth in 2 months. The shame, the guilt, the uncertainty overcame me. One evening I was google searching the church's view on being young, single and pregnant when I came to an article. It said if a temple marriage is in sight, keep the baby. If it is not, place this baby with a family that will be able to seal this baby. At the bottom of this long article was signatures from at least 5 of our prophets.
I was in an abusive and manipulative relationship. I knew making it to the temple wasn't a possibility.
During a meeting with the father's mother, my mother and I mentioned this article and that it's counsel from our Prophet. She pointed her finger at us and said, "Don't listen to that man. You need to listen to the God."
Follow the Prophet
I knew our Prophets are men called of God. I grew up in The Church of Jesus Christ of Latter-day Saints! I knew they speak by the power of the Holy Spirit.
Yet, I still wavered in my decision on what to do. Did I really KNOW KNOW? My faith in my prophet was questioned.
"We are blessed as we exercise our faith and follow their teachings. By following them, our lives are happier and less complicated, our difficulties and problems are easier to bear, and we create a spiritual armor around us that will protect us from the attacks of the enemy in our day." ~Elder Ulisses Soares
With lots of Prayer, Faith, Prayer, Love and support the adoption was finalized. She was sealed to an amazing family whom I'm grateful for daily. And I was able to find a someone who loves me and will take me to the temple.
I know this to be true. I know Russell M. Nelson is a man called of God. I know that our trials are easier to bear if we listen to and obey the prophet.
Follow the prophet, follow the prophet, follow the prophet don't go astray.

Follow the prophet, follow the prophet, follow the prophet he knows the way.