Both of my grandmothers loved the temple and made great personal sacrifices to regularly attend.  In their golden years, both of them served in the temple—my maternal grandmother in the Provo Temple and my paternal grandmother in the Arizona Temple.
Grandma Leona Decides to Walk to the Temple in the Middle of Winter
One very dark, frozen, winter morning, Grandma Leona dressed for her 5:00 AM shift at the temple.  She never missed a day.  She loved her shift and felt a deep sense of purpose and loyalty to serve. At 4:30 AM, she carefully traversed the icy sidewalk to her car, opened the door, and put in the key. She repeatedly turned the key to no avail.  Her beloved VW Rabbit's battery was dead.
Undaunted, Grandma in her dress coat, dress, and stockings picked up her temple suitcase and started walking to the Provo Temple, fully committed to walk the six miles to the temple, at 4:30 AM, in the freezing weather.
She walked a couple of blocks from her home to Orem Center Street. As she continued on her determined journey, a passing car slowed and stopped. Then it slowly backed up to her. The driver was a fellow temple worker who recognized this tiny little lady as Sister Noble on his temple shift.  He offered her a ride to the temple. Grandma worried she'd inconvenienced him.
I can't express my thoughts as I envision my aged grandmother determined to serve the Lord on her assigned shift and willing to do whatever it took to get there (besides asking her children or grandchildren or neighbors for a ride, of course.)  And we're all forever grateful that because of Grandma's consistent diligence, someone recognized our grandma walking alone in the dark on a frozen road towards the temple.
Grandma Leona's Impactful Faith in the Temple's Physical Power
Grandma Leona made a long and tiring road trip from Orem, Utah, to Midland, Texas, and then on to Dallas, Texas, to be with me the first time I attended the temple before my mission in 1992.  It mattered to her that I attended and she made the journey to support me. She was one of my best friends and the fact that she was there meant the world to me.
I lived with Grandma Leona after my mission in 1993. I'd experienced devastating health challenges and she invited me to live with her so I could have a respite while trying to conquer the rest of my degree. Because of her faith in the physical power of the temple, I covenanted with the Lord that I would attend the Provo Temple every day if He would enable me to finish school.
Since I lived with her, we attended the temple together three times a week. We did a session together and then I went to school.  She spent the day in the temple and I picked her up at the door or she found a ride home with a friend. The other days she prayed for me as I weakly left her house for the temple to keep my covenant with the Lord. By the end of that semester, I'd made marked and miraculous improvement.
I remember how she would always jump up to help if sisters were needed in the prayer circle. She never missed an opportunity.
A silly phrase emerged from the time we drove to the temple together.  She insisted I drive when we went.  I've always been an "adventurous" driver. She never criticized my driving, but now I wonder if she ever worried about arriving alive.  Nevertheless, we always did arrive at the temple alive.
One day, to make a left turn on a yellow light, I cut the turn slightly aggressively.  I shouted, "Hold on to your pantyhose!" and gunned it. She held on and laughed and laughed.  So I said that often and she kept laughing about it. I still tell my passengers "Hold on to your pantyhose," but nobody laughs like Grandma Leona did.
A Pillar in the Temple to Go No More Out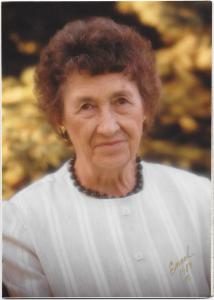 Grandma began to feel like she'd completed her life's mission and talked about dying.  I made her pinky swear that she'd be in the temple at my wedding. I was 26 when I married in 1997.  She made the long journey back to the Dallas Temple to be with me and Anthony on that important day.  I remember her hug.  She was so happy for my happiness.
I thanked her for keeping her promise.  She died in 1998.
I really wish I had her pinky swear to be at my children's baby blessings. She laughed when I mentioned that next milestone. But she wouldn't pinky swear. Maybe she knew that wouldn't ever happen for me and she was ready to go home—home to the temple of our God to go no more out
Yes, Grandma Leona loved the temple. This scripture in Revelation reminds me of her and her glorious return home to God.
[She] that overcometh will I make a pillar in the temple of my God, and [she] shall go no more out: and I will write upon [her] the name of my God, and the name of the city of my God, which is new Jerusalem, which cometh down out of heaven from my God: and I will write upon [her] my new name.
This scripture summarizes the desire of Grandma Leona's heart. Her life embodied this desire. And because of her life, I believe this goal is possible.