I met Liam Greene the day he was born and I've adored him his whole life. He is currently in the Provo Missionary Training Center preparing to serve in the Washington Vancouver Mission speaking Spanish. Liam's overcome great adversity in his life. I'm grateful that he chose to share thoughts about how his faith transformed that adversity and how he came to see beauty and purpose in his pain.
A Changed Viewpoint: Seeing Beauty in the Pain of Trials
by Liam Greene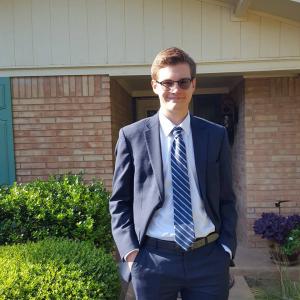 [P]rinciples of the gospel have changed my viewpoint to see beauty in the pain I have gone through and the suffering from the trials that we go through here on Earth. As you might expect, to come to this knowledge didn't come without a trial or two of my own.
Without going into detail, it was back in high school when I didn't have any friends that I could go to. Not only was I lonely but I also was struggling with the will to live, depression, and anxiety. Every day seemed to be just filled with pain and I didn't feel like I was doing anything worthwhile. From this experience, I learned my purpose through the Spirit and through the gospel and its doctrine.
My purpose on this Earth is to help people. Due to the trials that we go through, we experience blessings both from and during those trials showing us that God is with us every step of the way. Blessings can come during trials in ways such as patience, strength or stamina through the day, or other assistance in other ways that don't make the trial disappear.
For a good while, I didn't feel like God was a person who loved me like they said at church, who knew my thoughts and who knew me better than I knew myself. I lost my trust in Him. I lost what I was here for. I thought God didn't care because I felt that my prayers weren't being answered. And the prayers that were answered only brought me more pain and confusion.
But isn't that how we all are during trials? It's hard to feel that love and devotion to a God that we can't see who is control of our life as we know it. It's hard to be thankful when answers to our prayers lead to pain and sorrow. It's hard to trust our Father in Heaven and say "Jesus take the wheel" when we feel like we don't feel like we have any hope of making our lives what it should be.
Conversations with Heavenly Father
So an important principle that I wanted to talk about is Conversations With Our Heavenly Father and the humility we must have to be able to listen and align our wills with His.
When I went through all this, the only thing that made me feel like this world was worth its struggle was seminary. I had an amazing seminary teacher and she brought the Spirit into my life in a way that gave me hope every morning. With that hope, on the way to school, I would listen to Conference talks by my favorite prophets and when I felt the Spirit I would pray out loud to Heavenly Father as if He was in the passenger seat listening to me. I would pray out loud and then listen.
Some mornings I felt so empty so that I wouldn't be able to speak, so I would listen to a talk and then after the talk was over I would say "Lord, I am listening" and just listen instead of speaking. Soon, thoughts would come to my mind of how I needed to change. Thoughts about people in my life and how they were doing would come into my mind, promptings to reach out to people that day would come later in the day, feelings would come that would help me to see purpose behind the trials I was facing, and counsel would come.
I would start to see God's hand in my life and I realized it was personal. Now I have become so grateful for these trials.
I want to stress how prayer isn't just how we talk to our Father, but how He talks to us. Prayers are conversations with God. The sooner we learn the language of the Spirit, the sooner we can align our will with His and be able to be more attentive to the promptings of the Spirit about what keeps the Spirit with us and what pushes the Spirit away, also the faster we can learn divine knowledge to the questions we have in our hearts.
Prayer is an extension of the Eternal Plan and the Atonement. As we come to know the divine character of Heavenly Father, we can see the love He has for us. I encourage all of us to maybe listen to something that invites the Spirit or talks by prophets that we are blessed to have on Earth today to better prepare our hearts and our minds before we pray for the Spirit and to better prepare ourselves for the message that God wants us to know. The more we pray, the more we look to God, the more we acknowledge His hand, the more we will naturally align our will with His.
The Will of the Father
This brings me into my next topic. The Will of the Father can be very hard and many times we don't always want to follow the answers that we are given. My hardest struggle is to trust the Savior. I don't want to trust God in His timing or at least many times I don't. However, it's comforting to know that the Savior was hesitant in following the Father's will on one occasion.
In the Garden of Gethsemane. In Matthew 26:39 we read, "And he went a little further, and fell on his face, and prayed, saying, O my Father, if it be possible, let this cup pass from me: nevertheless not as I will, but as thou wilt." We see here that the Savior asked the Father if there was another way, hesitant at the pain and suffering he was about to suffer for us. But He followed the Father's will no matter what and was humble and did what was asked. Imagine if He didn't.
Over the years, this has taught me several things—not only that following the will of the Father and being humble is always beneficial, but that all the pain and the suffering that we can ever go through in this life is all worth it. If Christ could suffer for all the sins of the world and it would still be worth it, all the atrocities this Earth will put us through will be worth it in the end. Joseph Smith said that even knowing of what the lowest kingdom of Heaven is like would make it unbearable to live on Earth. I know that whatever we go through on this Earth, cannot be too terrible to be fixed by the love of Christ and the joys of Heaven as long as we do not deny the truth and seek it.
2 Nephi 2:25 also taught me that. "Adam fell that men might be; and men are, that they might have joy." Men are that they might have joy is because of Christ. And because of Adam, we can learn from the opposition in all things. We know happiness because we know sadness. We appreciate the light because we know what it's like to be in the dark.
How important family and friends are when we feel alone. How important love is when we feel like we can't find it. The trials that we go through are only for our growth and development so that we may become like Him one day in Eternity. We may grow and learn to put our trust and faith in him and utilize the gospel.
The Gospel's Impact
I am so grateful for the gospel. I once met a man who was a pastor and I talked with him when I was fifteen. When he heard we were members of The Church of Jesus Christ of Latter-day Saints, he told us a story of how in a great time of need that three angels appeared to him. He then later told us he was a pastor for most of his life but when he saw his mother pass away in slow agony from cancer, he couldn't understand how a loving God could do that to his loving mother who did nothing wrong in his eyes.
At the time, I didn't understand the Atonement of Jesus Christ enough to answer his question. Now I wish I could go back and tell him that his mother would be wrapped in the arms of the Savior on the other side, that nothing in this world can be worse than what the Savior went through and Heavenly Father put His own Son through it. I would tell him that his mother is safe, sound, healed, and loved and that her pain in this life was not only worth every second of it but is a blink in this life in eternity.
I can't imagine the pain he felt and the frustration but all I want to do is to tell him of the Plan of Salvation. And that not only that, but all those who have suffered from atrocities on this Earth will get that same redeeming Grace, Justice, and Love.
Divine Purpose
That is why I am going on this mission, to help people understand that all the pain and suffering in this life isn't just for nothing. This life is not just death but progression. It's not just pain, depression, heartache, and inevitable sin but inevitable growth by coming to know what the Savior did for us and how that affects us.
I am grateful for the Book of Mormon and it being the defining Testament of Jesus Christ that enables all this knowledge to be restored to the Earth. I am so grateful for the things Joseph Smith did for us and the fact he was willing to die for it. The whole world deserves to at least know of the Plan of Salvation for it helps people to find joy and beauty even in the worst of trials and in pain. Through the restored gospel today we can have hope, love, clarity, and peace in a world that is wasting themselves away because they don't know of the Plan of Salvation.
I have friends who smoke and drink and I don't blame them because I've seen what they've gone through without the knowledge of the gospel. And I cannot judge them because without the knowledge of the gospel I would be in the same boat. That is why we are commanded to be humble and to not judge others for we can never live in their shoes. But we can help lift them and show them the path that Christ has given us.
I'm so grateful for the power of God on the Earth given to us, especially for the Melchizedek Priesthood and all the blessings that come from it. I'm grateful to be able to have an Eternal Family and to be able to be sealed in the temple for time and all eternity.
I am grateful that the defining characteristic of the plan of salvation is love. From beginning to end, the design is for a fallen people to have the chance to be equally given the chance to become like their Father in Heaven through the Love of our Savior, our Heavenly Father, and the Holy Ghost. Love is also the divine design of our bodies and the part of the eternal plan to have eternal families. We are made to love as we are loved and learn to love those that do not accept our love.
The gospel is peace and is the eternity that makes everything OK. I want everyone to be able to have what I have, feel what I've been able to feel, and come to the knowledge that has brought me so much happiness and hope in the midst of the pain I have felt. The church is isn't perfect because people never will be on this Earth, but the gospel is. And that's what we're all striving for.