One way I've personally decided to keep the Sabbath day holy is to avoid purchasing things from businesses on Sunday.  Sometimes I need divine assistance to help accomplish that goal.  I celebrate the miracles that enable me to keep my commitment.
On Sunday, with driving to church in the afternoon and various spots in the morning, our vehicles had both slipped to 1/4 tank.  I decided I wanted to attend a musical fireside celebrating the Lāʻie Temple's 100th birthday. A favorite friend, Roxy, was singing in one of the choirs.
The Kaneohe Stake Center was 48 miles round trip. Anthony thought the car had 90 miles left in the tank.  I figured the FJ wouldn't make it. So I took the car.
I drove normally from Ewa Beach across the mountain to Kaneohe.  As I parked, the gas light came on. Uh-oh! We don't usually drive our vehicles to fumes, so I didn't know how much gas was left in the tank. Couldn't do anything about it then, so figured I'd deal with it when I got back.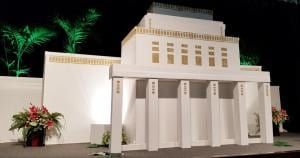 The fireside was fabulous!  2.5 hours flew by as I listened to Hawaiian hymns sung at the temple's dedication and rejoiced in hearing some very favorite soul songs.
30 Miles to Empty, 24 Miles to Go
At 8:00 PM, I returned to the car. I hardly ever drive it and fumbled around pushing buttons until I found the miles to empty display. I had 30 miles.
I opened Waze to verify how many miles I had between the church and home. 24 miles.
OK. That gave me a 6-mile buffer.  I turned off the air conditioning. Fully aware of my vulnerabilities, I set off towards home.
25 Miles to Empty, 22 Miles to Go
While conscientiously driving through the neighborhood, the miles to empty dropped from 30 miles to 25 miles left. I looked at Waze. I'd only gone two miles.  So now I had 25 miles of gas left and 22 miles to home.  I realized I'd have to stop for gas and apologized to the Lord.
Part of the journey is on the H3 up, through, and down the Koʻolau mountain range. I knew I could use the fairly steep descent to my advantage if I could conserve gas on the way up.
I maintained a very steady forward motion with one eye on my mile to empty display and another on my miles to go display. When I hit the tunnel, my miles to empty still sat at 25 miles. It was still 25 miles when I came out of the tunnel. I had 17 miles to go.
I took my foot off the gas and began coasting down the mountain.  It's pretty steep initially.  I got up to 68 miles an hour just coasting.  But then the road flattens out a bit and my coasting speed decreased to 45.  I applied the gas when I hit 45 mph just to maintain a constant speed.
When I merged onto the H1, I fumbled around again and finally figured out how to turn on the cruise control. Cruise control caught at 48 miles an hour. I pushed every button and lever I could find in the dark but couldn't get it to increase. I just decided to leave it.
I have never driven so slowly on that interstate! It was a curious experience.  But I felt determined to make it home without stopping for gas.
My miles to empty increased back up to 30 miles.
30 Miles to Empty, 12 Miles to Go
As I plodded along the interstate, I watched my miles to go slowly decrease while the miles to empty held steady at 30 miles. I was warming up without AC. I decided to keep my windows up to avoid any shift in drag.
I assumed I'd experience a massive decrease in miles to empty during the last four miles from the interstate to my house. I focused even more on steady, consistent driving. The miles to empty did not fluctuate.
I pulled to the back of the complex, shocked that I was still at 30 miles to empty.  As I pulled onto the driveway, it dropped—25 miles to empty.
I'd traveled 24 miles in 30 minutes and the fuel gauge needle basically never moved. For my driving style, that's miraculous.
Infusing More Awesome into My Miracle
I love number symbolism and decided to look up my significant numbers—24 miles, 30 minutes/30 miles to empty, 25 miles to empty.
24: "The number 24 is associated with the priesthood. Since it is composed of a multiple of 12, it takes on some of 12's meaning (which is God's power and authority, as well as perfect foundation) except in a higher form. Twenty-four, therefore, is also connected with the worship of God, especially at the temple."
25:  "The number 25 in the Bible symbolizes 'grace upon grace.' It is composed of 20 (meaning redemption) and five (grace) or grace multiplied (5 x 5)."
30: "Part of the meaning of the number 30 comes from it symbolizing dedication to a particular task or calling."
I drove 24 miles to and from a worshipful celebration of the Lāʻie Temple. I felt dedicated to a friend, the temple, and keeping the Sabbath day holy in a way that matters to me. And I felt grace multiplied throughout my drive and especially as I safely arrived at home.